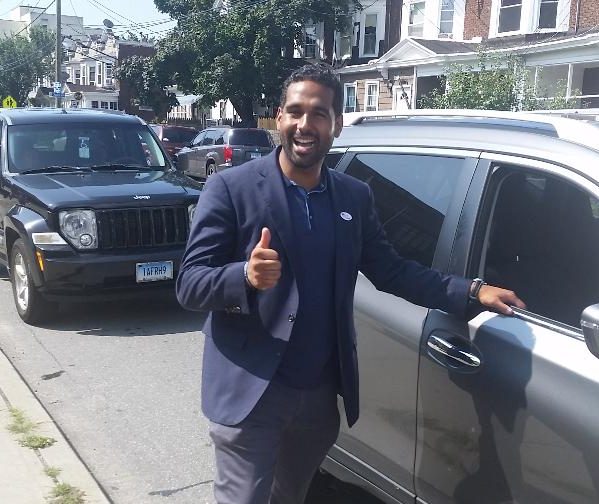 A defiant State Senator Dennis Bradley doesn't sound like a pol packing in his legislative seat amid a federal probe into campaign finance violations. If anything he sounds emboldened to carry on, a shift in feelings he expressed a few weeks ago.
"This alleged investigation is a political smear and/or a misunderstanding of facts," he shared in a text message in response to a question about his reelection bid. "But my record of a fighter speaks for itself and my accomplishment of winning big for the 23rd (district) when we bring in the first casino after over 30 years of talking about will demonstrate to the people that we are on the move."
When is he filing reelection paperwork?
"I don't do things small," he said, suggesting an announcement will come soon enough.
Bradley does have a grandiose flourish about him, perhaps too showy driving a glossy Maserati among deep pockets of urban poverty while calling himself the "People's Senator." Drive on the edge, play on the edge, campaign on the edge–that's Bradley, marinating in a deep dive of political plasma.
A flashy campaign announcement at an East End restaurant two years ago caught the attention of the State Elections Enforcement Commission which ruled that Bradley violated state civil law by leveraging roughly $10,000 in law firm funds to finance his election, including free drinks and food at Dolphin's Cove. It led to the watchdog agency rejecting his application for a general election grant under the state's Citizens Election Program of publicly funded races. The complaint was brought by then Board of Education member Maria Pereira who now sits on the City Council.
The election announcement transpired as Bradley prepared to raise small-dollar donations in pursuit of close to $200,000 in public money between the primary and general election. Senate candidates must raise $15,000 in donations of $250 and less from 300 contributors to qualify for grant money.
Now the federal government has taken notice impaneling a grand jury in New Haven that is hearing from witnesses associated with his 2018 run for state office including expenses financed by his law firm, donations made and where the money leads.
Bradley asserts this is much ado about nothing, something that should reach a civil resolution and not rise to the level of a federal investigation.
Unclear how deep the investigation goes or if solely focused on campaign finance.
Meanwhile, Bradley's gambling that his incumbency will slot kudos from constituents. He's Senate chair of Public Safety where gaming bills originate, including one already in the works that calls for a Bridgeport casino operated by one or both of the tribal nations that enjoy a casino monopoly in the state. Easier said than done given Connecticut's complex gaming policy and competitors threatening to file lawsuits in lieu of open markets.
For now Bradley sounds like he's pressing on with reelection plans.
Bradley has two potential Democratic primary challengers: City Councilman Ernie Newton who once occupied Bradley's seat and Kate Rivera, a South End social justice advocate who's a stick-in-the-eye to the political establishment.
The party endorsement will take place in May, followed by an August primary.