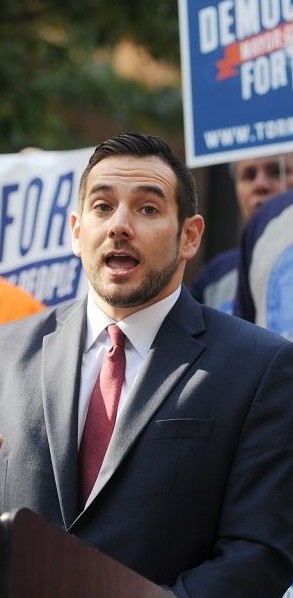 Asserting instances of racially motivated actions taken by officers of the Bridgeport Republican Town Committee have gone ignored by State Party Chairman J.R. Romano, former Republican candidate for governor Tim Herbst is blasting state party leadership following Republican mayoral candidate Dishon Francis' rejection to observe a local party meeting. Francis is black.

Herbst, the ex four-term first selectman of Trumbull, is calling on party official John Slater, a former Bridgeport Republican Town Chairman, to be removed as a member of the Republican State Central Committee whose members select party officers. Once allies, Herbst has had a falling-out with Romano who managed his 2014 race for state treasurer.
Romano is up for reelection as party leader.
Herbst on Saturday sent this email to Slater:
As one of two Republicans that represents us on the Republican State Central Committee, I am writing to you today to express my complete disgust with the Bridgeport Republican Town Committee, its leadership and your complicity in allowing the BRTC to engage in conduct that violates state party bylaws.

Dishon Francis is seeking to become the Republican nominee for Mayor of the City of Bridgeport, Connecticut. Dishon is a young, African American who is proud to be a Republican and who is eager to serve the City of Bridgeport. The Bridgeport RTC has done a horrible job of recruiting candidates in recent years. All the more reason to welcome with open arms a young man that wants to take on one of the toughest assignments in Connecticut politics.

I read on social media what was done to Dishon at the recent Bridgeport RTC meeting. Based upon what I read, I called Dishon personally to find out what happened. Dishon advised me that he went to the Bridgeport RTC meeting held at Port 5 to merely observe the proceedings. He further advised me that Mike Garrett, the Chairman, aggressively approached him and told him that he had to seek his permission to attend a meeting. As you know, or should know, this is in complete violation of the Connecticut Republican State Central Committee bylaws, specifically Article II, Section 9, which state that meetings are open to the public unless an RTC for valid reasons elects to go into Executive Session. No executive session was held as the meeting was not even called to order.

Dishon further indicated to me that not only did Mr. Garrett not let him into the meeting, but used the Port 5 officer on duty and called the police to remove Dishon and others from the Bridgeport RTC meeting. We wonder why Republicans have a problem in the big cities? For Mr. Garrett to violate the State party bylaws in denying a young, African American male access to an open meeting does not pass the smell test by any measure.

I have also reviewed correspondence previously sent to Chairman Romano by other Bridgeport Republicans alleging other incidents and instances of racially motivated actions taken by officers of the BRTC. These complaints have gone ignored by our State Party Chairman. Dishon filed a complaint yesterday with Chairman Romano. As of this morning, this complaint has also gone ignored.

It is readily discernible to me that the reason why Chairman Romano has not taken any action regarding the numerous complaints filed is because he depends upon your vote and Mr. Garrett's vote in the upcoming election for Chairman. You and Mr. Garrett, in turn, intend to vote for him because he ignores and suppresses complaints from Bridgeport Republicans about racially charged conduct that is violative of the State Party's own bylaws. It's a quid pro quo of the worst form.

As a State Central Representative, it is your responsibility to ensure every one of your member Towns follow the state party bylaws. It is also your responsibility to listen to your constituents. You have heard overwhelmingly from your constituents in Trumbull and Monroe that they are not happy with the current leadership of the State Party. We suffered historic losses in what was the best environment for Republican gains.

The actions enumerated above, between you, Mr. Garrett and Mr. Romano underscore the good old boy network that exists on State Central–you scratch my back, I'll scratch yours. Your complicity in the actions of your local RTC is not what the Republican Party is about. We are the party of President Lincoln and President Lincoln would not condone this conduct.

By copy of this email, in accordance with Article 1, Section 11 (b) of the Connecticut Republican Party Bylaws, I am asking that Chairman Pifko and Chairman O'Rourke call a duly noticed meeting for the purpose of removing you from the State Central Committee.

You do not represent the will of your constituents and you do not hold accountable those that engage in conduct that reflects poorly on our party.