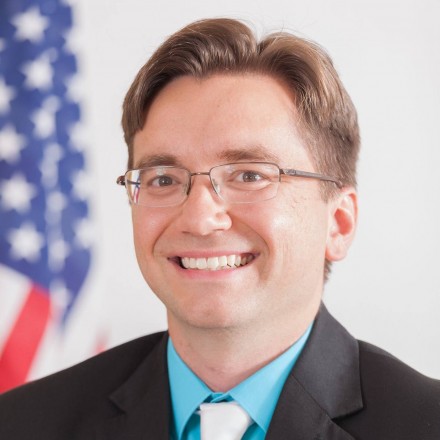 A history and civics teacher at Bassick High School is challenging Democratic incumbent Marilyn Moore in Connecticut's 22nd State Senate District that covers about one third of Bridgeport, all of Trumbull and a portion of Monroe. Republican Rich Deecken is a member and past chairman of the Trumbull Planning and Zoning Commission. His website here.

News release:
Rich Deecken, a current member and past chairman of the Trumbull Planning and Zoning Commission, has formally announced that he is running for the office of State Senator in the 22nd District, which includes Trumbull and parts of Bridgeport and Monroe. Deecken made the announcement online via his campaign's website, www.RichDeecken.com, and his Facebook page, Rich Deecken for State Senate 2018.

Rich has served as a land use commissioner in Trumbull for the past nine years. He was elected to the Planning and Zoning Commission in 2009, and is the former Chairman. Deecken currently serves on the Planning and Zoning Commission and the Inland Wetlands Commission, and chairs a school building committee.

"I am honored to have the opportunity to represent the people of the 22nd District in the State Senate," Deecken stated. "I am excited to bring a new generation of leadership to the state capitol that fuses the traditional Republican support base with Millennial values. The 22nd District is one of the most diverse districts in the state, not only demographically, but also in terms of land use, development, education, and infrastructure." Rich continued, "Our district's diversity reflects a true microcosm of Connecticut. We represent a thin slice of Connecticut values, where regardless of income, level of education, or the size of your home, each and every family deserves to keep more of their paycheck, and give less of it back in the form of taxes. We all deserve a safe community in which to live, raise a family, and eventually retire without being priced out of town."

When asked about his legislative goals, Deecken replied, "As a land use commissioner in Trumbull and a teacher in Bridgeport, I have seen firsthand the different challenges the hard-working residents of our district face. Our region's future is in its ability to attract new businesses, retain existing ones, and grow our local grand lists. My campaign will be advocating community development and revitalization, reducing the tax burden on homeowners and renters alike, and fighting for our fair share of state education funding. We must ensure the quality of our children's education while maintaining taxes that are stable and predictable."

Rich has worked in the Bridgeport Public Schools for ten years, and is currently a US History and Civics teacher at Bassick High School. At Bassick, Rich is the advisor to several student organizations, an athletic coach, the assistant director of the Jazz Band, and an elected teacher member of the School Governance Council. Rich's community involvement includes coaching and officiating youth football and soccer in Bridgeport and Trumbull. He founded one of America's first middle school cricket teams, the Geraldine Johnson Cricket Club, as well as the Bassick TRI Federation, which fielded Bridgeport's first competitive coed interscholastic sporting event.

Rich also serves as a Justice of the Peace. Rich is a product of the Trumbull public schools, and earned his bachelor's and master's degrees from Sacred Heart University. He lives in Trumbull with his wife, Theresa, and their daughter, Deanna.