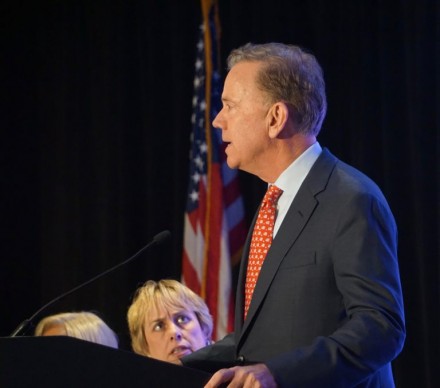 If Mayor Joe Ganim's to gain traction, assuming he makes the ballot for the presumed August primary for governor, he'll likely need to stitch together a constituency that does not include organized labor, generally a force in statewide Democratic primaries. From Mark Pazniokas, CT Mirror:
Ned Lamont, the wealthy Greenwich businessman who electrified progressives with an antiwar challenge to Sen. Joseph I. Lieberman a dozen years ago, easily won a straw vote for governor Friday at the Connecticut AFL-CIO's political convention, an unusually early effort by labor to shape the crowded race for the Democratic nomination in a pivotal election year.
The 48-percent vote was a boost for Lamont, who also won the loudest applause of the five Democratic gubernatorial candidates, but it was not nearly strong enough to convince delegates to attempt to make a formal endorsement. A two-thirds vote is necessary to make an endorsement, something that might be difficult before the primaries in August.

But labor is intent on trying. Its leadership pointed to a Republican gubernatorial field that snubbed labor's invitation to address 216 delegates from 67 union locals in Hartford. The leaders see that as a reflection of a GOP intent on weakening collective bargaining rights for public-sector workers, especially as they apply to pension and health-care benefits.
Full story here.