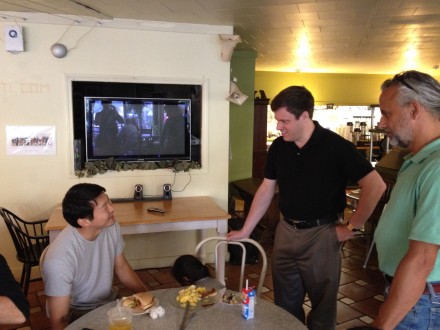 Visiting Hispanic-owned businesses, serving lunch at the Bridgeport Rescue Mission, meeting voters at Harborview Market in Black Rock. No one can accuse Republican congressional candidate Dan Debicella, a Bridgeport native, of not spending time in the state's largest city in his quest to unseat Democratic incumbent Jim Himes.

Debicella's latest stop on his listening tour of the city was the popular Harborview Market owned by Republican City Councilman Enrique Torres. What's a big issue in The Rock? Taxes. A point Debicella hammered home in the city's highest-taxed area.
"Bridgeport residents have the highest tax burden in the entire country," says Debicella. "Hard-working, middle-class families are being squeezed tighter and tighter in the city and we continue to see underemployment in the city in the double digits."
Debicella referenced a story published in February by USA Today rating Bridgeport the number-one taxed city in the country, stating, "No large U.S. city had a higher tax burden than Bridgeport."
Mayor Bill Finch disputes the article asserting Bridgeport isn't even the highest taxed municipality in Connecticut citing several cities with a higher tax rate. No doubt Himes will be making numerous stops in Bridgeport in the coming weeks to drive up numbers in the urban area facing an enthusiasm gap. Himes helped secure funding for the water taxis that reopened access to Pleasure Beach and millions in federal funding for the Steel Point redevelopment area on the East Side.
Himes defeated Debicella by six points in 2010 with Bridgeport a key voting area for Himes. President Obama filled the Webster Bank Arena in a campaign stop for Himes and other Democrats three days before the election. Will he return? Debicella, this campaign cycle, is spending far more time in Bridgeport trying to reach unaffiliated voters and disaffected Democrats to cut into Himes' number. In a close race, campaigning in Bridgeport will matter.
"I grew up in Bridgeport and know how great the city can be," says Debicella, a former state senator, "but as I heard from the residents I met with today, more government is not the answer. We must come together as both Democrats and Republicans to find effective solutions to getting Bridgeport working again."