Former school board member Maria Pereira, an opponent of charter schools, turned street reporter in front of Dunbar School on Tuesday confronting a paid canvasser for a pro-charter school organization who described Bridgeport as the worst performing school district in the country. The exchange between Pereira and the canvasser illustrates the gulf between pro-charter interests and opponents sweeping neighborhoods. The advancement of charter schools–-publicly funded but operating independently of the traditional school district–-is a controversial topic in Bridgeport with members of the Board of Education split on effectiveness.

The video, filmed by Pereira's friend Tammy Boyle, a public school parent, opens with Pereira asking the canvasser (Carissa) questions about city education near the East End school. Canvassers were in the neighborhood circulating a petition on behalf of Families for Excellent Schools although the petition does not specify a pro-charter message. Pereira did not initially make known her opposition to charter schools. During the interview the canvasser, who has children in city magnet schools, makes the case for charter schools to improve education standards.
About five minutes into the discussion, Pereira begins to school the canvasser working for Families for Excellent Schools about her perspective on the city school system including the funding differences between magnet and charter schools. Pereira admonishes the canvasser's claim that Bridgeport is the worst performing district in the country and decries the millionaires backing FES asserting the organization just wants to make wealthy Wall Street executives wealthier. The canvasser politely holds her ground responding that her experience with the organization is to help improve public schools. "This is my position. This is my job," she says.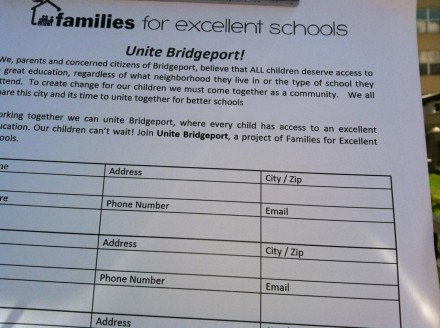 Two other paid canvassers off film can be heard in the background and the exchanges get testy near the end in a back-and-forth about the others' veracity. Pereira emphasizes canvassers are spreading lies in support of FES.
Charter school advocacy organization Families for Excellent Schools, a growing presence in city education, has commenced a citywide grassroots "Unite Bridgeport" campaign to circulate a petition, register new voters, receive input about the direction of city schools and share the gospel about the role of charter schools in the city.
FES organizers say they believe residents are tired of the political infighting over public schools. The goal over the next few months is to conduct 30,000 door-to-door conversations with residents. Canvassers hired by the organization are city residents trained at the B:Hive collaborative workspace Downtown.
Twelve canvassers hit the streets two weeks ago, says Kara Neidhardt, Connecticut state director for FES.
FES expects to complete the work by the end of September, and to present a petition to the Bridgeport Board of Education that calls on the board to advance policies that work for kids, say organizers.
The charter group FUSE was recently ousted from its management of Dunbar school.
In June, following disclosure he had a criminal past and falsely claimed he had a doctorate, Michael Sharpe resigned as the chief executive of the company that manages the low-performing Dunbar School. A few weeks later a community outreach coordinator working at Dunbar School resigned upon disclosure he had a criminal history that includes multiple drug offenses and is also listed as a low-risk level on a sex offender registry in Texas.
The state and city terminated its relationship with FUSE.
In addition, there's the debate about student performance standards under charter schools. Bridgeport has four charter schools. Former Bridgeport school chief Paul Vallas and outgoing Connecticut Commission of Education Stefan Pryor are proponents of charter schools.
FES is a growing presence at school board meetings. Formed in 2011 with a focus on the charter school movement in New York and Connecticut, FES is based in political advocacy financed by Wall Street backers.
The FES mantra: "Through organizing and political work, we work to amplify the voices of families over the din of electioneering and special interest campaigning. Rather than speak on behalf of public school parents, Families for Excellent Schools empowers parents to speak for themselves."
Opponents to charter schools argue they don't outperform magnet schools both of which require a lottery to gain entry, as well as underserve students qualifying for free/reduced price lunch, special needs and English-language learners.
From FES:
Our staff of sixteen comes from leadership positions at charter management organizations, labor unions, and political campaigns. Based in the best practices of these fields, we've developed a hybrid organizing/mobilizing model that is unique in the sector: we develop neighborhood chapters that support parent-to-parent organizing, training, and campaign work, and we work directly with schools to mobilize families for legislative and issue advocacy.