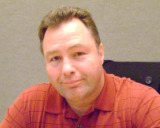 Bob Curwen, one of the longest-serving City Council members who also co-chaired the Budget and Appropriations Committee for more than a decade, announced Monday night his resignation from the city's legislative body to deal with some family health matters.

Curwen's tenure on the council goes back to the Joe Ganim mayoral era. A retired state corrections officer, Curwen tried to position himself as City Council president when John Fabrizi became mayor after a conviction on federal corruption charges forced Ganim from office in April 2003. The majority of Curwen's council peers lined up behind Andres Ayala with whom Curwen had a scratchy relationship. So much so it was Curwen who cast the deciding delegate vote at the Democratic Party convention for State Senate last May that gave the endorsement to former State Senator Ernie Newton who was arrested last week with violating state election laws involving public campaign funds. Ayala defeated Newton and incumbent Ed Gomes in a Democratic primary last August.
Curwen's convention support for Newton created a strained relationship with Mayor Bill Finch who supported Ayala. Curwen, the past several years, had also tried to position himself for a city job and in fact two years ago Finch issued a news release announcing Curwen's hiring in the construction management department, rescinded shortly after because Curwen wanted to maintain both his council seat and city position. Curwen had denied on several occasions that he was seeking a city job even the day before Finch had announced his hiring. Curwen, as city elected officials go, was fairly accessible to the media but what he shared was an exercise in decoding Curwen-speak such as the "I-onus is on him."
Curwen, himself, had talked for years about running for mayor, but mostly it ended up being a lot of talk. As chief of the budget committee, he wielded clout, but rarely challenged mayors on substantial spending items. Generally, he went along with what the mayor submitted. The mayor submits his annual spending plan to the council budget committee that does the majority of the work reviewing department budgets, voting on the document before it goes to the full council for ratification.
Curwen represented the city's Upper East Side in the northeast quadrant of the city, which features a diverse constituency of voters. Curwen and his council partner Rich Paoletto faced a primary in 2009 from long-time Democratic activist Andy Fardy and city educator Ann Barney. Finch et al. may not have had the greatest relationship with Curwen but the last thing they wanted was anti voices such as Fardy and Barney on the legislative body. Mayoral operatives weighed in hard. Curwen and Paoletto prevailed in a testy primary.
Curwen's replacement will be decided by the City Council with a name recommended by the nine-member Democratic committee representing the 138th District.