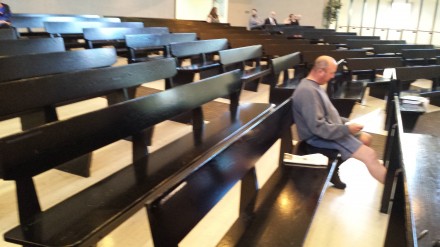 Well, two speakers are better than none, right? At 6:07 p.m. on Thursday Scott Burns, co-chair of the Budget and Appropriations Committee, called the meeting to order for the public to speak on Mayor Joe Ganim's proposed $560 million budget. Michael Bottillo, a postal worker from the West Side, stepped up to the microphone. "The mil rate can't go up," he told the council members. "If it does this city will be another Detroit." At 6:17 the public hearing ended. Just one other speaker, citizen fiscal watchdog John Marshall Lee, addressed the council. And that was it. City Hall staffers sitting in the empty pews far outweighed the public speakers.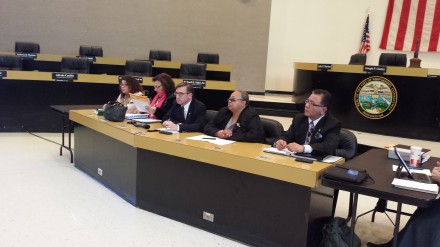 Thursday night was dwarfed by Tuesday's public hearing when more than 200 education advocates filled the council chambers to address school spending. Thursday's public hearing was devoted to city side spending such as police, fire, public works, parks, executive level departments, etc. Finance Director Ken Flatto, Budget Director Nestor Nkwo and Chief Administrative Officer John Gomes were all in attendance to observe the public hearing.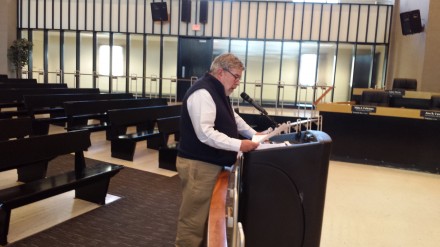 Lee urged the council members to be mindful of spending. "We are under water and sinking," he declared.
Lee's words may very well be accurate, but that sinking feeling apparently has not registered with taxpayers.
The council committee is reviewing Ganim's spending plan. It will make changes and vote on the budget in May before it goes to the full 20-member body for a vote. Ganim will then take a veto review. A final mil rate will be set in June for the budget year starting July 1.
Text of John Marshall Lee's budget remarks:
Members of the Council, tonight is the third night set aside by the Council to hear the public. At the first meeting titled Capital Budget I was the only member of the public who spoke. But I was not able at that time to receive a full legible set of Capital Budget materials. Today at a personal expense of $15.60 I did so. I salute the City Clerk office for their efficiency in providing materials I request and am willing to pay the expense because of the labor and copying materials involved.

But, folks, it is 2016 and all of you use the internet and electronic communication systems to receive similar info. Why is the taxpaying public shut out of this communications game? Are there old rules that require paper to be filed and stored? Or something else? In the meantime why is a second alternative not available to the public to download on their equipment and bear the expense of toner and paper? Of course reports to the City Clerk should be sent on 8.5 x 14 paper.

Perhaps each member of the B&A committee is fully conversant with Departmental equipment like Public Facilities, but I am not. City purchases were intended to be audited per a City ordinance that Council passed a decade ago but is ignored today. Where can you see an asset and liability balance sheet kept for each department with a current inventory of equipment and historic capital purchases, whether with City funds, bond funds or from grants? Wouldn't that set the five year forward budget projections in context for you? Where is a current Departmental inventory of equipment that is being depreciated according to City budget policy and practice? Where is a listing of funds spent and why spent on City buildings in the past year? Shouldn't that be something you routinely request during the year to take pressure off at budget time? For instance, was there an item relating to WIFI at the Webster Arena purchased by the City in the past 18 months? Why was it funded? What dollars were used to pay for the purchase?

Is every Capital item requested of equal priority? I doubt it but you have no relevant measure of priority from each department. Why not? Did you have an official discussion that suggests that $46,063,308 is an affordable bonding amount at this time? I do not see any minutes suggesting that. Since you have already authorized the Library bonding request according to last evening's testimony, though it failed to be included in the spring 2016 bonding, when you complete your review, can you determine that the City is ready for an additional $60 Million total debt increase?

Switching to the Operating Budget I downloaded all 356 pages using my paper and toner. I was disappointed as some of you are in the format because the Personnel Summary reports have been abbreviated since last year and misunderstandings become easy. This year the only column headings are Filled and Vacant and I found no reference to what these two words mean. The Police Department has ten divisions but in the Personnel Summary only nine are shown because the Police Administration division apparently is assigned no employees. Strange because the other nine division show 478 Filled positions and 18 Vacant positions. But you will not find 478 living breathing bodies assigned to those filled positions receiving salaries today. And even though 59 or 60 people have been terminated, laid off, or otherwise retired since December 1, 2015, at least 83 new employees including 23 Police Officers have been added in the same time period.

The personnel total is flat but the budget increases by what percent?

"Filled 478" would indicate that the Police Department may have a Departmental Table of Organization with officers assigned to various divisions. But the number of Filled positions is less than 478 and the heading is not honestly descriptive. Why indicate as Filled and budget for people who are not there today and will not be there during the FY2016-17? Aren't you creating ghost expenses? Last year the headings were Filled, Unfilled, Vacant and New. Why did we change?

Many of you may know how many Departments are staffed with people receiving Grant revenues? How many people are so employed? Why doesn't the budget provide that information, even if it is necessary to be reported in an addendum?

Your hearing process does not permit me to go through each Department, and the public should know that you do not do that either. According to your schedule, the Mayor's office, your own legislative budget, and several other areas including Civil Service, Labor Relations, Benefits, etc. are not scheduled. These are departments intimately involved in labor agreements and employment practices that often involve (acting) leadership, multi year contracts that are concluded and voted upon without an taxpayer appreciation for the costs implied, or that cause too many suits to be filed against the City that taxpayers have to defend. Watchdogs required?

The current year Finch budget was deficient significant revenues assumed and also had appropriation overruns and whether the year ends with a $10, 12 or 15 Million dollar deficit, it is a past problem that the Mayor is trying to change.

However, ignoring increasing school expenses for 22,000 resident children in our school system is not fair in a year where Police Administration will increase $13 Million from the current year in which it increased $13 Million from the 2015 FY. Doubling expenses of this order, $27 Million, needs broader explanation and detail than the Mayor or anyone has provided thus far. Why was Public Safety Department scheduled for after the third hearing tonight? The needs of 350 to 400 Police Officers should not be allowed to shut out City support for a basic school budget. And a flat and balanced budget may require across the board cutting where every one feels the pain, not just the injured taxpayer. How about it? What say you? What percent must be cut Department by Department, letting management rearrange the deck chairs? We are underwater and sinking. Remember the RED RUBBER BOOTS as symbols. Time will tell.