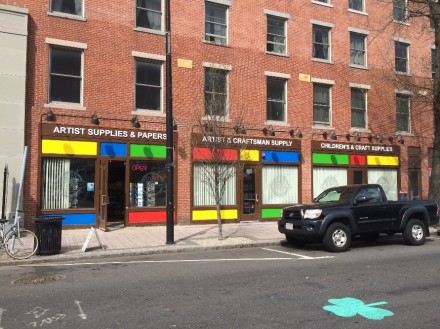 News release:
Artist & Craftsman Supply, an employee-owned chain of retail stores, has opened the doors of its 29th store in the Arcade Building Downtown. Nearly two years ago, the company opened a store in New Haven and felt the need to serve the community of Bridgeport as well. Artist & Craftsman Supply, based in Portland, ME, has been providing supplies to creative communities for over 30 years.
Recently they've enjoyed explosive success, having been able to expand into markets including New York, Philadelphia, the Washington DC area, and Connecticut. The company has followed a unique path toward expansion. The formula has been to avoid high rent districts and refined spaces, and instead take on buildings that traditional retailers wouldn't normally touch. Artist & Craftsman supply often puts stores where artists live and work, and serves communities that have often been overlooked by larger chains.

The new Bridgeport store is in the historic Arcade Mall on Main Street, one of America's first enclosed malls with a beautifully restored Victorian stepped-glass roof. The new space contains nearly 6000 sq ft of supplies for fine artists, crafters and kids. A&C is also well known for its unique selection of school supplies, toys, gifts, and oddities.