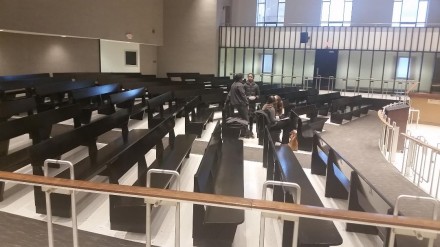 So, a grand total of one–yes, one–spoke Thursday night at the public hearing on the general budget in City Council chambers. And that one person was Bassick High School teacher Annie McDermott who delivered a passionate plea to improve conditions at the physically challenged high school. Annie was encouraged to return next week for the public hearing on the school board budget.


These OIB moments are priceless considering the roughly 150,000 folks in Connecticut's largest city impacted by city spending plans. All seven members of the Budget and Appropriations Committee attended the cricket-volumed event. Several other council members attended.
It's rare for a City Council meeting to feature more public officials than members of the general public but that was the case Thursday night. Mayor Joe Ganim's proposed spending plan calls for no tax increase. It's certainly a work in progress with several unanswered questions including anticipated state dollars and funding for the voter-approved library budget. So many unknowns. In a few weeks the budget committee will vote on the spending plan for the budget year that starts July 1. Most of the budget review work occurs at the committee level before a full vote of the City Council.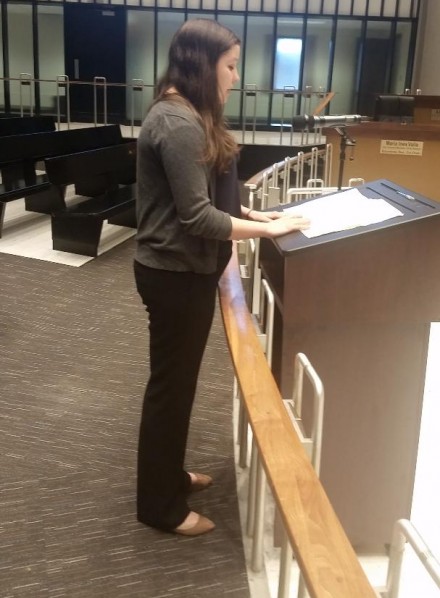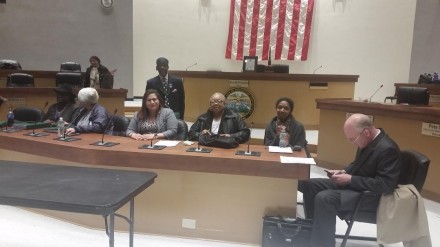 Remarks from Annie McDermott:
My name is Annie McDermott and I am a science teacher at Bassick High school. I am here to speak to you today about some of the drastic funding and resource disparities that manifest at Bassick High school, but more urgently, the current public health and safety issues that we are dealing with. In any old building, there is expected to be some deterioration but at Bassick, the physical environment has literally become toxic. There are currently concerns that the buildings have mold, asbestos, and radon radiation. On the science floor of the building alone, the air quality is so bad that this year there have been 2 instances of anaphylaxis, 2 cases of pneumonia, and 2 cases of severe bronchitis in addition to persistent allergic and respiratory issues amongst the teachers, not to mention the students. Students and teachers cannot perform to the best of their ability when their basic physiological and safety needs are not being met. And this toxicity is not lost on the students. Students at Bassick high school know that they are getting less than they deserve, less than every other school in the district with regards to resources, facilities, instruction, and opportunities. They are concerned about the health issues related to the building in addition to the complete lack of resources that we have within our school. The city of Bridgeport has an equal obligation to ALL citizens from all parts of the city to protect them, especially the youth. We as a community are currently failing Bassick high school by ignoring this health crisis and it cannot go on any longer. This issue extends beyond normal funding. On behalf of the students, teachers, and other members of the Bassick HS community, I implore the city council to take action to protect our students and remedy the air quality issues at the school. The school as a whole is in desperate need on improvements and resources. I am here to inform you of this because I believe the conditions at Bassick high school are far worse than the community of Bridgeport realizes. But rather than listening to my opinion, please consider the following letters written by Bassick students to the city council:

Dear City Council,

I attended Central High School for 2 years before I moved to Bassick. In those 2 years, I have seen most of the renovations being done. When I first came to Bassick and saw the condition it was in, I was confused. It seemed like things haven't changed since my mom attended 20 years ago. All of the cabinets, desks, and lockers are outdated. The floor tiles are cracked and old and so are the ceilings. The bridge that we walk across everyday to get to class has a leak and looks as if it could fall down at any second. This year we have teachers getting sick because there isn't even any good air. Have you guys noticed we play home games at Central's field? I have one serious question, how much did you think the students would take before they would speak up? Bassick's reputation may not be squeaky clean but this isn't a prison and I refuse to work in a building that looks like it. How do you expect kids to come into a building ready to learn if the building looks like this?

Sincerely,

A Bassick Student

Please consider the words of this student. We desperately need the air quality improved in the building. Beyond that, the students know that their education at Bassick HS is sorely lacking because the school has been chronically underfunded and neglected for decades. As a city council, you need to take action to begin to improve the disturbing conditions at Bassick. Despite the long term plan of building a new Bassick high school, there are no funds being allocated to improve Bassick in the capital plan. We cannot wait for a new building, we desperately need to improve the air quality and the resources allocated for Bassick now.

Thank you.