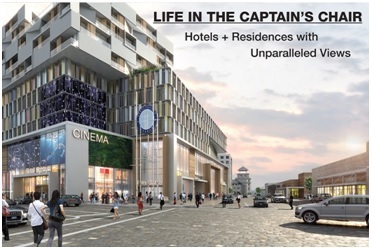 From city Communications Director Av Harris:
Mayor Joe Ganim today announced that the City of Bridgeport has sold the remaining two pieces of land at Steelpointe Harbor for $2,086,600 to the Bridgeport Landing Development (BLD). The deal was closed on July 1, 2016 giving BLD approval to begin construction on a Cinépolis luxury movie theatre, a Hampton Inn, retail and residential properties and boardwalk. The 20.8 acre site located on Stratford Avenue on Bridgeport's East Side is a part of a five-phase development project that has been on-going for years.
"The completion of this sale is a huge energy boost for the development Steelpointe and the Bridgeport waterfront," said Mayor Ganim. "This not only helps the city treasury, but this provides much needed momentum to attracting further economic development and investment in our city, which will also expand our tax base for years to come. I am looking forward to seeing Bridgeport have more destinations for entertainment, and attractive new places to live. This project is a perfect fit for a powerful revitalization of Bridgeport's East Side."

Robert W. Christoph Jr., Principal Developer of Bridgeport Landing Development, said, "The purchase of this property enables us to fulfill our strategy for Steelpointe Harbor which is to make it a destination for retail, dining and upscale residential. To that end we have begun investing in the remaining infrastructure and investigating many a sap shipping software so we the process of shipping for the retail could be expedited. We are very excited with the progress that is being made at SteelPointe Harbor."

BLD's construction concept of residential property mixed together with conveniently located retail and commercial establishments reflects a European city style. The last phases of construction consist of open spaces to stroll including a boardwalk with a panoramic view overlooking the Long Island Sound. The community will also gain the Bridgeport harbor back, an amenity that hasn't been accessible in two centuries. When complete, BLD estimates that Steelpointe Harbor will have approximately 800,000 square feet of retail, 200,000 square feet of commercial/office, 300,000 square feet of hotel/meeting area, a new 200-slip marina with complete shore-side support and will ultimately contain 1,000 to 1,500 residential units.

Construction is currently taking place on phase two of the land that borders Long Island Sound. Utility lines are being installed and the infrastructure of the peninsula, including building foundations is being raised nine feet to 14 feet above sea level to meet new federal flood protection regulations. BLD plans to begin construction of new high-rise buildings in 2017.