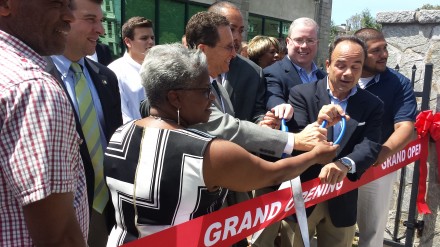 It's not every day the city scores an A+. On Fairfield Avenue, a few blocks from the Klein Memorial Auditorium, Mayor Joe Ganim on Tuesday was joined by city and state officials for the grand opening of security provider A+ Technology and Security Solutions' expansion from Long Island to its first physical presence in Connecticut in a state-of-the art 7,000 square-foot New England headquarters. Jorge Garcia, who served as director of Public Facilities and Construction Management under Mayor Bill Finch, is director of the company's New England Operations that provides video and security technology for public schools and security surveillance at Pleasure Beach.


Garcia pointed out that Finch, a technology policy wonk, would be proud of the company's investment in the city.
Company officials say the expansion in Bridgeport allows its security, technology, solutions and services accessibility to the New England region while growing jobs in the city. The company has started with seven full-time employees from Bridgeport and plans to increase that number to over 20 in the coming year. The office is located at 1027 Fairfield Avenue on the West Side.
"A+ Technology & Security Solutions' New England Headquarters in Bridgeport comes on the heels of the company's longstanding relationship with the City of Bridgeport as a security provider that resulted with it earning the 2014 Security Innovation Award–Municipal Sector," says spokesperson Margie Gurwin.
Current projects with Bridgeport include:
· Providing video and security technology for the security monitoring and surveillance at Pleasure Beach since its reopening in 2014
· Providing video and security for the City of Bridgeport's K-12 Districts and higher-ed campuses
· Installing a Security Operations Center in Bridgeport last year.