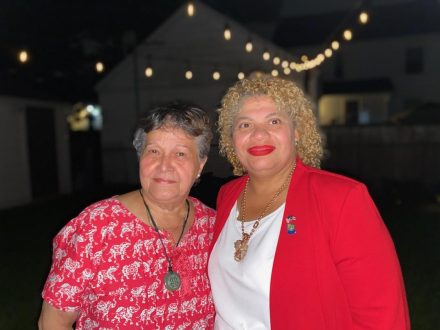 City Council President Aidee Nieves and district partner Maria Valle steamrolled the handpicked candidates of City Clerk Lydia Martinez mounting mighty numbers for both the walk-in vote and absentee ballot totals on the East Side in Tuesday's Democratic primary.
This primary was intensely personal between Nieves and Martinez who promised to teach the council president a lesson for not genuflecting to her district seniority.
The huge win for Nieves and Valle takes a large bite out of Martinez's crown as the queen of absentee ballots in the heavily Hispanic 137th District.
The most striking was the absentee ballot count, the historical domain of Martinez, but not on this night. Nieves and Valle drubbed opponents Rosa Franco and Elsie Mercado by roughly two to one in both the walk-in and absentee totals.
Meanwhile two recounts will take place in City Council Districts 131 and 139 because the results are within 20 votes. In 131, Tyler Mack holds an 8-vote lead over incumbent Denese-Taylor Moye while Wanda Simmons leads incumbent Eneida Martinez by 13 votes in the 139th. Martinez clearly suffered from controversies involving her management of an illegal club where a man was shot fatally a year ago.
Her council partner Ernie Newton won his primary race but faces another challenge in the general election from Simmons and Victoria Majewski, backed by the Connecticut Working Families Party. Assuming Simmons wins the recount she will appear on both the Democratic and WFP lines in the general election, guaranteeing her a win, while Majewski carries just the WFP banner. Still, Newton cannot take the general election for granted because Simmons, a strong campaigner, will be pumping for newcomer Majewski who's also a spirited campaigner.
Newcomer Aikeem Boyd, running by himself, stunned the party establishment in the 133rd District running ahead of party-endorsed Raymond Collette. He will become a new council member.
In the Upper East Side 138th District, incumbent Maria Pereira reasserted her dominance as an establishment fighter amassing large wins across the district, including absentee ballots and walk-in vote, along with her running partner Michele Small, defeating incumbent Samia Suliman and Kevin Monks.
Incumbent council members cruised to wins in the 132, 135 and 136 Districts.
The community activist group Bridgeport Generation Now Votes had a robust night: five of its seven primary endorsement candidates won.
More on this to follow.
On the Republican side endorsed Board of Education candidates John Weldon, Mary Gaits and Peter Perillo all ran ahead of incumbent Joe Sokolovic who has another chance in November running on the WFP line.
For city sheriff positions endorsed GOP candidates Mike Garrett, Mike Moretti and Rick Torres handily defeated a challenge slate of Ethan Book, Charlie Valentino and Jacquelyn Perry.
Statement by Carlos Moreno, State Director, Connecticut Working Families Party (WFP), following local primary results in Bridgeport.
"Bridgeport can be so much more: a city of opportunity, vibrant, welcoming, where everyone can thrive. Today, we are one step closer to this vision. Today's primary victories of Tyler Mack (131st), Aikeem Boyd (133rd), Wanda Simmons (139th) in Democratic City Council primaries represent a rebuke to the corrupt, dysfunctional party machine that has long controlled City Hall.

Bridgeport voters have spoken: they will no longer tolerate the rampant patronage, incompetence, double-dealing, and scandals in City Hall. Bridgeport needs new leaders that not only share a commitment to fight for economic justice, but to break with the old, corrupt ways of city government. Leaders that are willing to put economic opportunity, good schools, affordable housing, equitable growth, and effective institutions as their main priority.

There is a lot to be done. Tyler, Aikeem, and Wanda represent the first wave in a changing tide. Bridgeport deserves better–and we are proud to stand with these leaders fighting for change.

We want to thank Victoria Majewski and Dasha Spell on their hard-fought campaigns and commitment to making Bridgeport better for everyone.

The Working Families Party endorsement comes with candidate training and strategic campaign support. All candidates are carefully vetted to ensure that they reflect the views and values of Working Families' members. Recent polling affirmed Working Families' members vote for candidates who will fight hard for racial, environmental, and economic justice, tax fairness, healthcare reform, strong public education system and immigration reform.

WFP-endorsed candidates appear on the WFP line on the ballot in the general election.
Early returns machine totals: does not include absentee ballots:
131 City Council Cruz 119, Taylor-Moye 98; Davis 105, Mack 155
132 City Council: Brown 155, Brantley 131; Spell 77
133 City Council: (potential upset) Herron 104, Collette 80; Boyd (running alone) 138
135 City Council: McBride Lee 198, Roman-Christy 200; Thompson 159
137th City Council District: Nieves 205, Valle 211; Franco 108, Mercado 104.
138th City Council: Pereira 208, Small 210; Monks 153, Suliman 161.
139th City Council: Newton 239, Martinez 193; Simmons 210, Majewski 172.