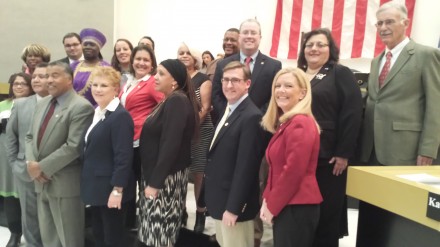 It's one simple sentence on the City Council agenda for Monday night "Miscellaneous Matters Committee Report re: Settlement of Legal Claim with Thomas C. McCarthy" but getting there was no simple resolution. The city's legislative body is expected to provide final approval to an employment severance package for its leader who also served as deputy director of Labor Relations. The approval may come with no official details announced publicly.

The item is listed on the so-called parliamentary "consent calendar" that includes matters grouped together with no discussion providing one vote to approve all. For the most part consent calendar items are deemed routine that do not require discussion to move business along quickly. But the consent calendar can be a convenient cover for council members to avoid the public unpleasantness of issues such as approving a pay package for a peer who's also pocketed a six-figure salary.
Last Monday, under the cover of litigation, the Miscellaneous Matters Committee entered into executive session outside of public view to hear details of a negotiated severance package hammered out chiefly by Associate City Attorney Mark Anastasi and the labor lawyer for McCarthy, former Mayor Tom Bucci. Both parties have publicly ducked releasing the official terms of the agreement but sources say it's a package of roughly $35,000 and 18 months of health benefits for McCarthy to go away peacefully and avoid messy litigation.
The genesis of this is Mayor Joe Ganim living up to a campaign pledge to eliminate conflicts of interests on the City Council such as city employee councilors approving their own wages and benefits. McCarthy has been on the public payroll and a City Council member for about 15 years. McCarthy was often accused of abdicating checks and balances in government with then-Mayor Bill Finch because he worked for the executive branch of government while serving as head of the legislative body. Negative, countered McCarthy, he pushed back but just did not do it publicly.
Democratic Town Chair Mario Testa, close to Ganim and McCarthy while also Bucci's cousin, even stepped in to help broker the exit deal. McCarthy and Bucci initially threw out a large severance number, Ganim who had to sign off on the arrangement countered low. Ganim ultimately approved the agreement that was then ratified by the Miscellaneous Matters Committee, now before the full council Monday night. City Attorney R. Christopher Meyer says it requires council approval because more than $20,000 is involved.
Critics of the agreement argue McCarthy should be viewed as a discretionary employee of the mayor and let go without a financial reward. Supporters maintain this is a prudent resolution that would cost taxpayers more dough in a protracted legal battle in addition to the hard feelings it could create between the mayor and McCarthy as president of the council. The agreement also frees up McCarthy to provide due diligence because his paycheck is no longer coming from the executive branch.
McCarthy has a law degree and presumably will look for employment in the legal/labor field. He has not discussed publicly his employment future.
See full council agenda here.