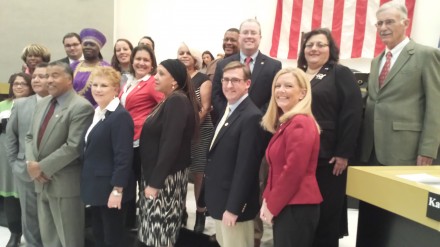 The ground hog calls for an early spring. How about the Bridgeport City Council demanding the sunlight of scrutiny in public? Following an executive session behind closed doors, the City Council Monday night approved a severance package for City Council President Tom McCarthy in his role as deputy director of Labor Relations that sources say is roughly $35,000 and 18 months of health benefits.

It's unclear when McCarthy's last official day on the city payroll will be. Calling the agreement a "fair deal" he says a final date will be determined shortly after some routine language about his departure is worked out between former Mayor Tom Bucci, his labor lawyer, and the City Attorney's Office.
Several council members say they felt uncomfortable approving a financial package that benefited their leader who earned a six-figure salary. City Attorney R. Christopher Meyer says the council vote was required because the dollar figure surpassed $20,000.
The council agenda item for McCarthy was listed on the so-called parliamentary "consent calendar" that includes matters grouped together with no discussion providing one vote to approve all. The council voted to move "litigation" items on the agenda for discussion behind closed doors. When they emerged from the caucus after discussing McCarthy and a few other items for more than an hour, McCarthy's severance package was approved. Michelle Lyons was the one no vote. McCarthy abstained from his vote. He also did not participate in the closed-door conversation about his employment exit.
Last Monday, under the cover of litigation, the Miscellaneous Matters Committee entered into executive session outside of public view to hear details of a negotiated severance package hammered out chiefly by Associate City Attorney Mark Anastasi and Bucci. The full council approved the committee vote with Anastasi providing details during the executive session.
The genesis of the agreement is a campaign pledge by Mayor Joe Ganim to reduce conflicts such as city employees serving on the City Council.
McCarthy will continue his role as City Council president. McCarthy has a law degree and presumably will look for employment in the legal/labor field.
CT Post reporter Brian Lockhart has more on this and other council matters from Monday night such as a tax agreement with developer Sal DiNardo for the city to take property next to the proposed East Side train station here.