What does a retired General Electric chemical engineer do next? For Robert Schulten it's creating the city's first licensed distillery since Prohibition, from grain to bottle using corn grown in Connecticut. On Asylum Street, across from the East Side little league complex, Schulten and his team that includes wife Bridgett, who handles sales and events, and Neil Doocy, marketing and social media, work out of a warehouse that produces gin, vodka and whiskey now available in liquor stores and restaurants throughout the area. See video above to learn the Asylum Distillery process.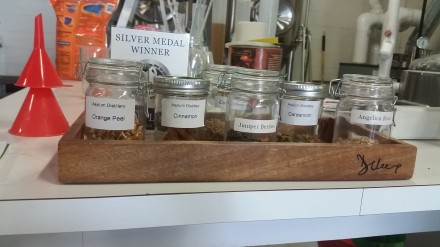 "People want to know what they're putting in their body," says Bridgett who treks across the state regularly to introduce and place products in various outlets.
For a chemical engineer, it's all about dreaming in flavors as Robert notes from their website.
I bet most people have better dreams than I do at night, but I dream in flavors! That's how Asylum Distillery started … it's all about making the most interesting flavors possible using locally grown corn to create craft, small-batch bold taste spirit sensations. Okay, I'll admit, I have the best job in the world. Many people don't know what real flavors are, but I'd like to introduce everyone to artisanal flavors, flavors that only come from the best that nature has to offer.

For me it's an epic journey to search out the best and distill it into an incredible tasting product for those who want to try something different, local and made in Bridgeport. Asylum Distillery never adds sugar, always uses non-GMO corn and will never introduce a product you can make better yourself at home. Since our start in 2014, we try to live up to our motto, "Distilling the spirit of Connecticut".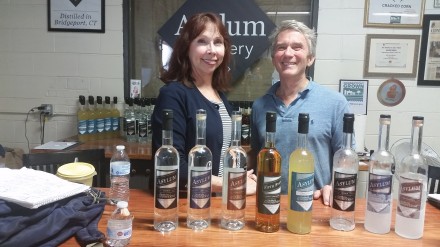 The process includes milling, mashing, fermenting, distilling and bottling–producing gin, vodka, oak-aged Fifth State Whiskey, unaged corn whiskey, their version of CT Moonshine, and Ginger Zap, an infusion of ginger root and vodka. The gin is made with a blend of juniper, citrus peel, cardamom, coriander and cinnamon. The result? A silver medal from the American Distilling Institute, the voice of the industry craft. Ah, gin up!
Why Bridgeport?
The proper infrastructure for such an operation coupled with a city zoned for distilling.
Why is it called Asylum Street?
We checked with city historian Charles Brilvitch as well as Elizabeth Van Tuyl who oversees the History Center at the Bridgeport Public Library. In the 19th Century poor farms, as they were called, were "asylums" for the impoverished. A poor farm stood on the site of the little league field across the street from the distillery. A street was laid out in 1866 as a road to the poor house, thus Asylum Street.
In September, Asylum Distillery will be open for tours and tastings. You can taste product on site but law prohibits them from making a drink. Why wait for the last minute? In case you want to make your own summer cocktail pleasure see recipe below. And don't forget to buy from Asylum Distillery. You can do that directly too.