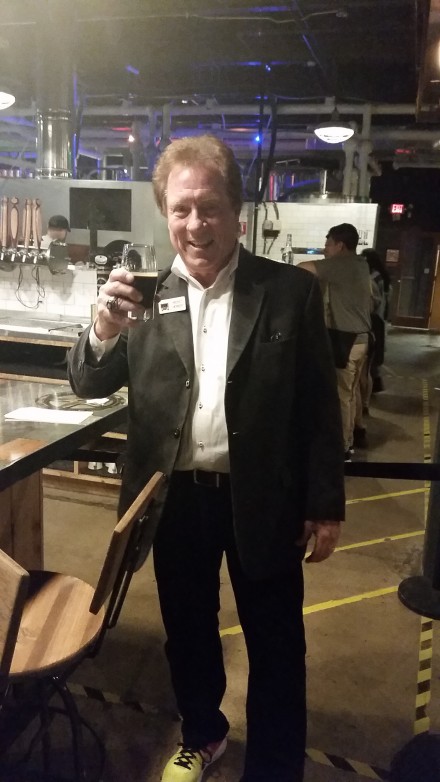 Nearly 200 business community members Monday night filled the Brewport Brewing Company, a former newspaper distribution center in the South End, to greet the new president and CEO of the Bridgeport Regional Business Council Mickey Herbert, one of the founders of the Bridgeport Bluefish, who replaced Paul Timpanelli following a nearly 30-year run. If you haven't been to Brewport, check it out. This place is the berries. Bridgeport's own John Ratzenberger would love it. Ratz, you out there?

Brewport co-owner Bruce Barrett was on hand to welcome members of the business organization that covers Bridgeport, Trumbull and Stratford. The Bluefish will celebrate its 20th season in 2017. Herbert was an original founder with Jack McGregor and Mary-Jane Foster and sold his interest in the team about 11 years ago. The ballpark and Webster Bank Arena are a short walk from Brewport on South Frontage Road along I-95. Brewport has plenty of parking.
What did guests chat about? Presidential politics, of course. Received an earful about those "crazy" posters on OIB. What? We're tame compared to some of the exchanges on the presidential campaign trail and talk radio. Paul Griffith (Local Eyes) was on hand to share his slice of life. Always fascinating to hear the Local Eyes perspective.
As for Mayor Joe Ganim's first year return, a wide range of opinions. Many said one year done, hope for second-year progress; others were optimistic about advancement at the Steel Point redevelopment area on the East Side and Downtown north development.
Herbert, who also made his professional mark in the health care business, was one of the few business leaders who supported Joe Ganim's comeback. The vast majority of suits supported Bill Finch, whom Ganim defeated, in the primary and then Foster in last year's general election. Herbert was relaxed and good spirits on Monday, sporting chartreuse sneakers. You gotta like a business leader who dons sneakers and a jacket.