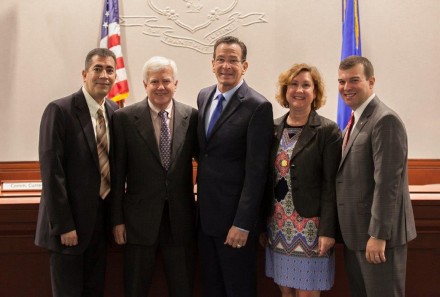 News release from state legislative delegation:
Representatives Ezequiel Santiago (D-130th), Andre Baker (D-124th), Charlie Stallworth (D-126th), Jack Hennessy (D-127th), Christopher Rosario (D-128th) and Steve Stafstrom (D-129th) are pleased to announce approval by the State Bond Commission of funding for improvements to the Klein Memorial Auditorium facility in Bridgeport.
Representative Ezequiel Santiago worked to introduce the bonding request and champion the item through the process over the last few years, culminating in today's approval.

Bridgeport Legislators said, "The Klein Memorial provides an important venue for cultural and social programs that enrich lives throughout the greater Bridgeport area and the state. This is a great investment that will increase access and earn returns in a number of different areas."

In addition to a rich variety of performances from orchestras, plays and other services, The Klein offers the only tuition-free after school arts program in Bridgeport. $2,650,000 was allocated to the Klein for the installation of an elevator, technology improvements and code required improvements.

"All of us at The Klein are extremely grateful to Governor Malloy, our chief sponsor Representative Ezequiel Santiago, Representative Stafstrom, and the other members of the Bridgeport delegation. This funding is an investment by the State, and we proudly accept the responsibility to apply it toward the betterment of Bridgeport. Additional thanks to Mayor Ganim and his administration who have generously offered their encouragement and support," Laurence Caso, Executive Director, The Klein.

The State Bond Commission approved the funding in a meeting held on Tuesday, November 15th. The Klein Memorial funding is on Bond Commission Agenda Item #28.