From July 2019, Jessica Martinez with fellow school board member Albert Benejan.
Charter school advocate Jessica Martinez Monday night was named chair of the Board of Education, the eighth leader of the policy-setting body the past six years, replacing John Weldon who had served in that capacity for two years. Weldon, without the votes for another term, placed her name into nomination. The vote was 7 to 2.
Martinez, in addition to herself, was backed by Weldon, Chris Taylor, Joseph Lombard, Albert Benejan, Sybil Allen and Hernan Illingsworth. The other votes were for Joe Sokolovic who nominated himself. He was supported by newcomer Bobbi Brown.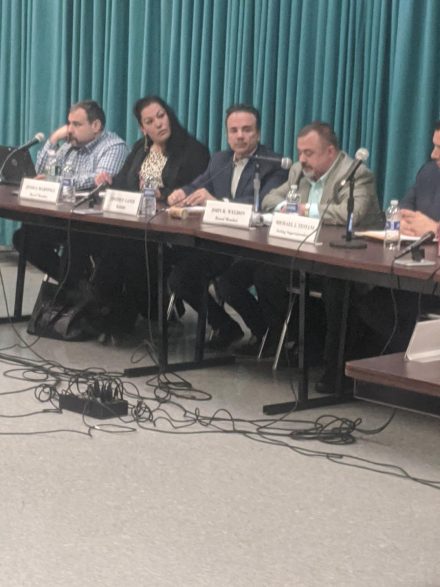 Martinez's ardency for charter schools is antithetical to the views of recently departed board member Maria Pereira who asserts they drain resources from local districts while serving as tax shelters for corporate greed. Charters receive public money but operate independently of traditional municipal districts. Pereira is now a member of the City Council.
Martinez, who had served as vice chair of the school board, is an independent state lobbyist for 50 CAN, a national school choice organization.
From an OIB interview early this year, Martinez's passion is school choice "fighting for all children to experience the same educational exposure" be it magnet, charter or vocational schools. "As a parent I want to utilize my choice for my child," a mantra she's sharing with members of the state legislature.
She embraces "my child, my choice", a national education advocacy group declaring "funding should follow children from one public school to another, regardless of whether that school is a traditional public school, a magnet school, or a public charter school."
Martinez supports money-follows-the-child legislation that does not exist in Connecticut, essentially a student who attends a charter school in Bridgeport would receive state education funds redirected from the local school district.
Opponents to charters argue they suck financial resources from traditional schools. Bridgeport with six has the most charter schools among Connecticut's 23.
Half of Bridgeport's charter schools have been placed on probation by the state Board of Education citing poor academic performance, excessive expulsion rates and exorbitant teacher turnover.
Still, Martinez argues, school choice is what's best for parents and students. As an elected school board member Martinez says education access "does not do justice for the children."
Late last year Martinez was involved in a confrontation with her boyfriend that led to her January 2019 arrest for felony assault and misdemeanor reckless endangerment.
In July, with State Senator Dennis Bradley providing her legal counsel, Martinez entered a guilty plea to reduced misdemeanor charges that also included violating the conditions of her prior release in a domestic violence case. Martinez's plea also included agreeing to a 20-week domestic violence program. Bradley added once she completes the program her record relating to those charges will be cleared.