Community gadfly Cecil Young's bullhorn is much a part of the fabric of Bridgeport as the coal burning South End smokestack. They both huff and puff and spew. Cecil's blown out the ear drums of residents at all points in the city. Several years ago his bullhorn created such a racket in front of then Mayor Bill Finch's house that he took a pinch. On Tuesday he launched his latest "injustice" jihad in front of 1000 Lafayette Boulevard Downtown where the FBI has a local office. He left behind the bullhorn but created plenty of amplification through a speaker.

The former city sheriff and city employee has been on a mission the past decade for what he calls civil rights violations during his time as an employee in the Health Department where he claimed he was fired for whistle blowing unsanitary conditions at P.T. Barnum Apartments. Cecil will sermonize on the subject to anyone willing to listen, and on Tuesday he attracted a small amused crowd that was captured by Steve Krauchick, host of Doing It Local. See video above. Cecil argues federal authorities should do something about his assertions.
Cecil's litigiousness has kept both the state and federal courts humming in recent years. Most of the time he loses, but every now and then he wins such as the case in the aftermath of a national-news-making fight in 2010 involving City Council members that cost taxpayers $85,000.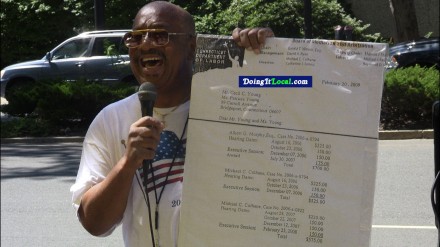 Cecil was on his usual tear taking city officials to task, rambling about sewage issues at P.T. Barnum Apartments, and a bunch of other stuff during the public speaking portion of the meeting between 6:30 and 7 p.m.
Cecil apparently didn't like the facial gyrations coming from council member Evette Brantley who said she wasn't feeling well. Cecil misinterpreted Brantley's expressions as being directed at him and launched into a rant. Okay, time is up says City Council President Tom McCarthy who chairs the public-speaking portion of the meetings.
After Cecil was done speaking, Brantley approached him to explain her frown was not intended for him and she wasn't feeling well. She got in Cecil's face, as a review of the film shows. Cecil wasn't buying it. Yell, scream, finger pointing. East Side council member Angel DePara moved in to break them up. Pushing, shoving occurred and then McCarthy came to Angel's defense followed by others. Within seconds most everyone was rolling around on the council chamber benches. Cecil hired seasoned litigator Norm Pattis to take his case. The city settled, approved by the City Council for $85,000.
Cecil has a knack for being at the right place, at the right time, including the July 1989 Democratic Town Committee endorsement for mayor that broke out into a brawl between members Mario Testa, the current party leader, and Mike Rizzitelli. On that night Cecil was behind the camera filming the event. See video below. As the fight breaks out Cecil puts down the video and rushes to the melee. See, sometimes Cecil can be a peace maker.