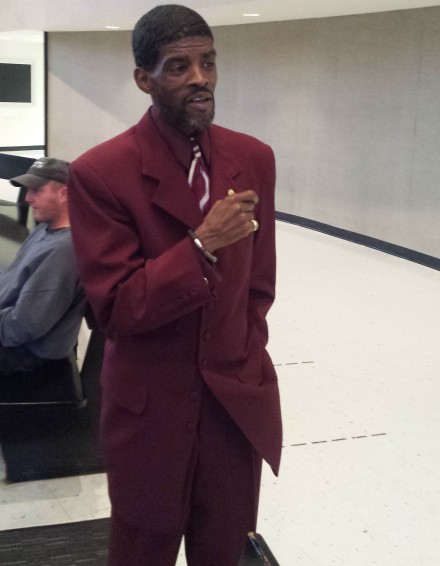 In these parts say the name Ernie and everyone knows the moniker. Greet Ernie Newton as Moses and he preens a sense of humor. Be it tasty times or tough times, the irrepressible self-proclaimed prophet of his peeps currently represents Bridgeport's 139th City Council District encompassing the East End where he has prided himself for jawboning a mixed-use development along Stratford Avenue that includes a new library, grocery store, health care center and restaurant under construction.
In 1981, he became the first black to serve as city council president. He represented Bridgeport for decades in both chambers of the state legislature. Despite a few brushes with the law, the sartorially resplendent Newton is a resilient survivor and familiar face on the Park City scene, who knows everyone and where the bodies are buried. He shares his thoughts with OIB as part of our Bridgeport Bicentennial celebration.
Q. What is your first memory of Bridgeport?
A. Buckley Field in the East End where we played Little League baseball, the Crystal Palace, and the two theaters downtown. I played baseball and went to the movies and had fun as a child.
Q. Where is your favorite spot in the city to visit and why?
A. Pleasure Beach was a favorite spot because my brothers and I would go fishing off the pier. Stratford Ave had so many stores and shops we never had to leave our community to buy anything.
Q. What are your ties to Bpt., and what do you do, either work or volunteer work, that benefits the city and its residents?
A. I grew up in Bridgeport, and attended public schools, graduating from Warren Harding H.S. in 1974. I was in an Upward Bound program at the University of Bridgeport led by the late Ernie Parker and many others too many to mention. It was there that I decided to go to college. In 1974 I attended Winston-Salem State University, the home of Earl "The Pearl" Monroe who I tried to model my basketball skills after. LOL. I came back to Bridgeport after graduating from college in 1979. My degree was in music education and I substituted until I was hired full time by (Superintendent of Schools) Geraldine Johnson to teach music at East Side Middle School which I attended in 1969 because Lincoln School had burned down.
I came back from college to make a contribution to my city. In 1981-85 I was elected to the Bridgeport City Council at the age of 25 making me one of the youngest and first Blacks to ever hold that position. In 1988 I was elected to the State House of Representatives moving through the ranks as Assistant Majority Leader, Deputy Majority Leader and Deputy Speaker of the House of Representatives and served on many committees, including co-chair of the bonding committee, bill-screening committee, Appropriation, Finance Revenue and Judiciary. In 2003 I was elected to the state Senate leaving the House in leadership. Part of the deal was I would only go to the Senate if I could become Deputy President Pro Tem of the Senate.
Today I work for Career Resources as a returning citizen navigator helping brothers and sisters who come home from prison to find a career to work.
Q. What do you like best about Bridgeport?
A. I love Bridgeport's waterfront. Our parks are beautiful, Seaside Park, Beardsley Park and Zoo.
Q. Where is your favorite spot in the city to visit and why?
A. Newfield Park and Seaside Park. Newfield because as I get older I think back to my childhood days and what it was like growing up as a child. Pleasure beach and fishing and Little League baseball and football and basketball.
Seaside Park because I think about the 4th of July parades; how everyone would get dressed up on that day and watch the parade and go down to Seaside Park where the Midway would set up rides. Wow, those were the days.
Q. What's your favorite Bridgeport eatery and what do you like there?
A. Drumstik Bar-B-Q, Famous Pizza, ice cream place on Lindley Street (Brock Hall) and Johnson's hotdog place in the South End on your way to Seaside Park.
Q. Where do you see the city going?
A. I see Bridgeport as an attraction spot by opening and utilizing our waterfront and developing our housing market and by creating opportunities for our small businesses.
Q. If you had a magic wand and could make a miracle happen for the city, what would it be?
A. That our young men and women and adults would realize that everyone has a role to play in turning our city around and that WE ARE OUR BROTHERS' KEEPERS!