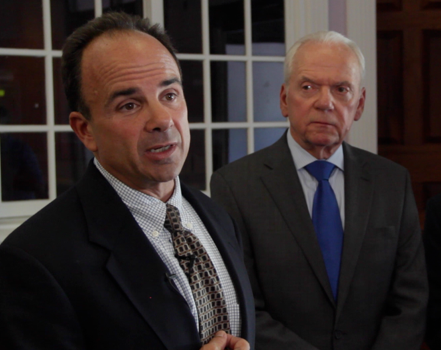 Retired Superior Court Judge Carmen Lopez in an OIB commentary is paging retired FBI agent Ed Adams who was hired by Mayor Joe Ganim to serve as the conscience of the administration.
Joe Ganim is back in City Hall!

So is the FBI!

In 2015, Ed Adams, a former FBI agent and a member of the team that investigated and prosecuted Joe Ganim for public corruption signed on with "Team Ganim," and its Second Chance message.

In an effort to wipe away the blemish of corruption, Adams told the CTPOST, "Joe wanted me to be part of his administration to make sure that he is doing things right." (CTPOST August 9, 2018, "Ganim's G-Man gives Mayor political currency").

So Ed Adams was hired for approximately $90,000 to be the legal and ethical conscience of the new Administration. Adams rarely makes public statements, and, as a City employee is presumably subject to the "don't talk without permission edict" recently issued by the Mayor.

But even if Adams has been muzzled, I have a few questions that I believe deserve answers. It is time that we issued a report card on Ed Adams' anti-corruption initiatives.

We were promised a Bridgeport Office of Public Integrity to prevent a repetition of the 1990s corruption scandals. Why has no ordinance been passed?

Paging Ed Adams!

Our City Council flagrantly violated the Freedom of Information Act and was ordered by the Commission to undergo training. FOI was an area that Mayor Ganim stated Ed Adams would be involved in.

Paging Ed Adams!

Our Acting Police Chief assigned an on-duty police officer to collect absentee ballots out of private mailboxes at the direction of the Democratic Town Chairman. This police officer was supposed to be protecting the residents and taxpayers of the City of Bridgeport, and not running political errands. Why was no one held accountable for this blatant illegality?

Paging Ed Adams!

It has been established by overwhelming evidence that the Chairperson of the Civil Service Commission is a resident of the Town of Trumbull. A Bridgeport resident and taxpayer called attention to this fact, but our Ethics Czar was silent. How come?

Paging Ed Adams!

Numerous vacancies exist on City Boards and Commissions, and many people are serving expired terms. The Ganim administration says that these vacancies can't be filled and people can't be reappointed because of the difficulty in obtaining background checks.

Background checks? In this City? In this administration? Really?

Paging Ed Adams!

Ed Adams was put in charge of the new downtown parking meters. This effort was a fiscal and community fiasco. The ordinance was poorly drafted and premised on a state statute of questionable applicability to Bridgeport. No good explanation for this boondoggle has ever been presented.

Paging Ed Adams!

Before Ed Adams' successors at the local FBI office arrived at City Hall, the scrap metal scandal was already well known, but no one has been held accountable. Why?

Paging Ed Adams!

Ed Adams is a gentleman, by all accounts. But that is not the issue. The issue is whether the second-chance Ganim Administration has turned over a new leaf, or, in the words of the late great Yogi Berra, is this just, "Déjà vu all over again?"

Paging Ed Adams!