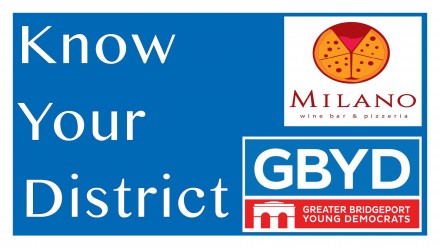 A new year. Why not some new blood in city politics? Okay, so there's no Type D blood but what the heck, plenty of Democratic blood has been spilled in city elections over the years. In advance of expected Democratic Town Committee primaries in March, The Greater Bridgeport Young Democrats on Wednesday night at 7 is hosting a "Know Your District" event at Milano's Wine Bar Pizzeria, 281 Fairfield Avenue Downtown.

"The goal of this event is to bring together current district leaders, DTC members, and other community leaders with the Young Democrats to discuss the upcoming DTC elections ahead of the 1/17 filing deadline," says Constance Vickers, president of the organization. "There are Young Democrats in every district of the city and we hope that more districts will begin to welcome new blood to their teams."
Bridgeport's 90-member Democratic Town Committee conducts party business, endorses candidates for public office and selects officers. Since 1992, Mario Testa has led the party for all but four years. A number of district primaries are expected that could turn over the makeup of the Democratic infrastructure. Shortly after expected March primaries, officers will be selected.
The makeup of the organization will impact Mayor Joe Ganim's gubernatorial run and prospects for reelection to mayor in 2019.