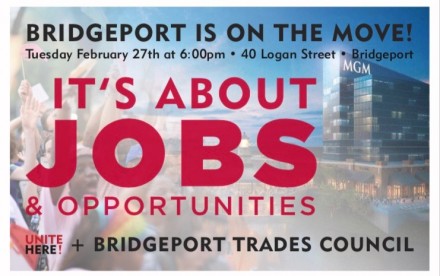 Major labor unions will conduct a rally for casino jobs Tuesday, 6 p.m. at 40 Logan Street in the East End including a push for a Project Labor Agreement with MGM Resorts that has proposed a $675 million waterfront gaming facility in Bridgeport.

Members of  UNITE Here and Bridgeport Trades–IBEW, Teamsters, Carpenters, Operating Engineers, IATSE–will gather in support of MGM to provide union jobs for the proposed Bridgeport destination at the Steelpointe Harbor redevelopment area. The MGM plan calls for roughly 7,000 jobs.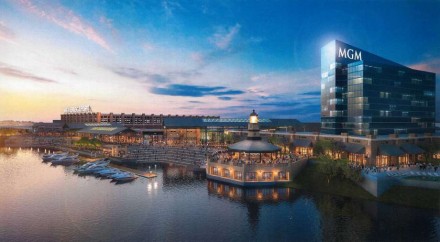 A public hearing on a bill that proposes an open, competitive process for a casino is scheduled to take place March 8 before the legislature's Public Safety Committee.
MGM's proposal requires legislative approval. Connecticut currently operates under a gaming monopoly in which it receives 25 percent of the slot take in exchange for granting gaming exclusivity to the state's two tribal nations that operate Foxwoods and Mohegan Sun.
Legislative supporters of the tribal nations are trying to kill the bill while proponents of an open, competitive process urge gaming proposals to see what comes back for a state swimming in red ink.