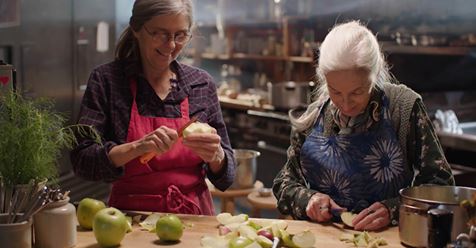 What can you say about Bloodroot founders Selma Miriam, Noel Furie and all the culinary ambassadors that have made the landmark feminist vegetarian restaurant and bookstore in Black Rock a destination for visitors from throughout the Northeast? Since 1977, at the end of Ferris Street along the harbor, they have touched the pleasure centers of thousands with their groundbreaking concept enriching both brain and belly.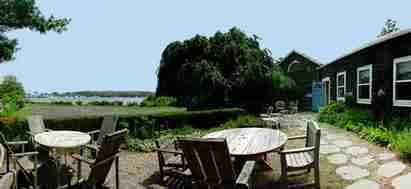 Selma and Noel are OIB correspondent Bob Fredericks' latest interviews saluting iconic personalities for Bridgeport's Bicentennial.
Q. What is your first memory of Bridgeport?
Selma: I grew up in Bpt. My first memory is sitting on the steps at 205 Marion St and crying when I was 4 years old! I don't know why, but the picture is on the wall at Bloodroot. My father started Davidson's fabrics when I was 1 year old. I graduated Bassick High School.
Noel: I am tied to Bridgeport in many ways. In 1980, I bought a Victorian house on the West Side for myself, my two children and a couple of friends. I love the house and the neighborhood and that my children grew up here with friends of many ethnic and economic backgrounds. I live across the street from an elementary school, at which, in the late 90s, I helped organize and build a flower garden with the students there. Together with some of my neighbors, we founded Maplewood Action Committee and hosted clean-ups, a vegetarian block party, etc. It was a great way to get to know my neighbors! Our committee supported the renovation of the old Maplewood school into low- and middle-income housing when there was some objection to that. It was a successful solution to housing needs in the area.
Q. What do you like best about Bridgeport?
Selma: What I like best about Bridgeport is the wonderfully diverse population here.
Noel: What I love about this city is the diversity we find here, the small grocery stores where we can buy ingredients for our restaurant's ethnic dishes, my neighbors from many parts of the world. I am also very pleased that Color Blends, a Dutch bulb company has a show garden in my neighborhood on Clinton Avenue. It is beautiful and not to be missed!
Q. Where is your favorite spot in the city to visit and why?
Selma: I often tell visitors about a couple of unknown or hidden gems: Color Blends beautiful Spring garden on Clinton avenue, free to visit the paths often. A beautiful treasure! Also Seaside Village, a tiny replica of an English Cotswald community from another century.
Noel: Bridgeport is the home of Mercy Learning Center, an amazing organization which helps immigrant and local women find jobs, learn English if necessary, apply for citizenship, etc. In a word: how to succeed in a culture so often very different from their own. Many of the women who have worked at or are still working at Bloodroot have come from MLC. We have been very fortunate to have the connection with the Center so that this has happened. We have learned from these women and they from us.
Q. What is your favorite restaurant in Bridgeport and what do you like there? Ha, not a trick question.
Selma: My favorite restaurant (besides my own Bloodroot) is Pho Saigan. Authentic, and vegetarian enough for me.
Noel: Of course, Bloodroot is my favorite eatery! Favorite foods? Depends on the season.