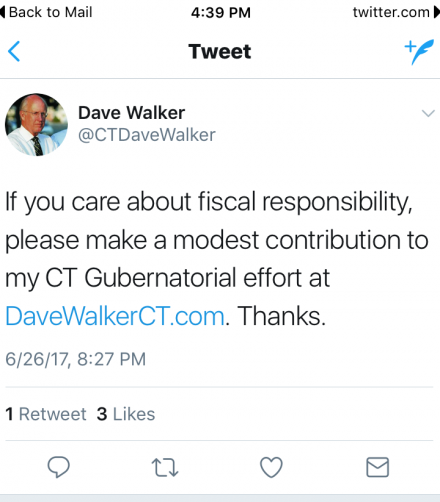 Don't expect Republicans Tim Herbst and David Walker to share a beer any time soon. The gubernatorial campaign of Trumbull First Selectman Herbst asserts Bridgeport resident Walker, the former U.S. Comptroller General, is violating state campaign finance law by making representations of a declared candidacy for governor under the guise of an exploratory committee.

The 2018 campaign for governor features hotly contested races in both major parties. Herbst, who nearly won the state treasurer's race in 2014, is among the top-tier Republicans vying for the GOP nomination next year. Walker is raising money under an exploratory committee. The State Elections Enforcement Commission asserts what you represent as an exploratory candidate could trigger a window in which the candidate must form a full blown candidate committee. For instance a candidate cannot hold himself out as candidate for a specific office while in an exploratory phase. Such representations could disqualify funds raised under the state's Citizens Election Program of publicly funded races.
Herbst campaign manager Tom Daly, for one, issued a letter to the SEEC on Monday claiming written statements made by Walker on June 26th and June 27th represent the actions of a declared candidate for governor despite operating under an exploratory committee. He cited Walker's Twitter account from June 26 declaring "If you care about fiscal responsibility, please make a modest contribution to my CT Gubernatorial effort at DaveWalkerCT.com. Thanks."
Response from Walker: "The tweet came from someone on my Exploratory Committee. It does not have the DW initials which signifies that I did it personally."
Walker's homepage website also features the language "David Walker is working now to be nominated for Connecticut governor."
What you say and write, however, matters, says the SEEC although there is no "bright-line rule," according to a declaratory ruling.
According to SEEC regulations an office seeker has 10 days to form a candidate committee after making a declaratory statement and must not seek campaign donations in the exploratory committee. An exploratory committee allows a candidate to raise personal contributions to a maximum of $375 and flexibility to pivot to the declared office of choice rather than being boxed into a specific slot. Arguably, candidate contacts may be more willing to write a check to a candidate committee than one testing the waters.
Prior to the Herbst campaign complaint Walker says he recently met with SEEC officials to discuss these types of issues. "Based on that the complaint has no merit." Walker also added if he qualifies for public financing "I will be the next governor of Connecticut." Walker ran for lieutenant governor as a Republican in 2014.
"I think it's ironic a career Washington bureaucrat would have trouble navigating campaign finance rules," said Herbst in a statement. "It's certainly embarrassing for the Washington insider, but GOP voters are more likely to reject Mr. Walker because of his past advocacy for tax hikes, his longtime status as a D.C. insider who was a Democratic appointee to various offices and the fact he only became a Republican in 2014 to run for office," Herbst said.
Daily Ructions host Kevin Rennie has also weighed in on this issue.