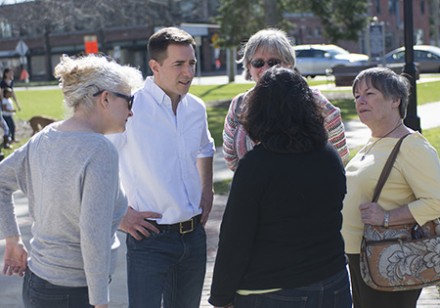 So far this is a wide-open gubernatorial election cycle for 2018. An open seat, Lieutenant Governor Nancy Wyman not clearly signaling her intentions, a slew of candidates, committed or through exploratory, raising money to leverage millions in public dollars. It provides room for a sleeper. On the Democratic side it may be Chris Mattei, a Bridgeport lawyer, who served for years as chief of the U.S. Attorney's Office financial fraud and public corruption unit, including prosecuting former Governor John Rowland on federal election law violations.

Eschewing money from lobbyists, the only Democratic candidate running statewide to make that declaration so far, Mattei reports his campaign raised $118,344 from more than 1,000 individual donations in 10 weeks since he formed an exploratory committee for governor. With the latest fundraising quarter ending June 30, most committees must now make a mandatory electronic filing by July 10 to the State Elections Enforcement Commission. Some candidates will release the numbers before then in a show of positioning and gamesmanship. This stuff is a scorekeeper's dream.
Fundraising, even on a public dollars level, is a show of strength. In Connecticut, gubernatorial candidates must raise $250,000 in contributions of $100 and less to achieve a public grant worth millions, be it in the primary or general election.
Mattei doesn't enjoy the political connections of the established candidates so he must make up time through fundraising might while moving around the state introducing himself to party insiders who will serve as delegates at the respective party conventions next May prior to expected party primaries in August. It's a long, hard slog.
"I am not a man of extraordinary personal wealth or deep political connections," writes Mattei in a recent eblast to followers. "There are no powerful special interests waiting in the wings to support my potential candidacy–not when I've spent a career taking a few of them on myself."
Rejecting lobbyist money, Mattei has challenged other candidates to do the same, is a nice talking point on the campaign trail. Lobbyists tend to spread it around, so not taking it certainly leaves money on the table. But if Mattei can achieve his fundraising goals while touting a reformer's touch, it's twice the pleasure.
"A politics that reject the backroom deals and influence peddling, which have held us back," he declares. "A politics that give citizens a reason to check back in to the democratic process. This change won't come from Hartford. It will only come when friends and neighbors join together to demand it."
Comparing apples to apples with other more established candidates, Mattei's first fundraising quarter is impressive. The early dough is always the easiest money. If he backs it up with another performance he creates more chatter. The key is the number of donations of $100 and less. Under an exploratory committee, some campaigns lard up the pot with a number of maximum allowable $375 personal contributions. It's necessary money to spend in the exploratory stage to build a campaign infrastructure but the low dollar amounts are the ones that count to trigger the public grant when rolled into a full-blown candidate committee. For instance, for governor, 2,500 contributions of $100 gets you there. And it's a beast to get there, super labor intensive. It's why many established candidates who failed to reach the threshold in 2014 have started earlier than last cycle.
Mattei also brings gifted gab to the table, quick on his feet, an aggressive courtroom demeanor. Can he temper that on the campaign trail with arguments that connect with voters? Some may argue that as a prosecutor he broke too many political bones to pad his resume. Check the record and you'll see the eager Mattei was egalitarian in his prosecutorial swath. He locked up officials in both major parties.
Mattei, in the early field, is the one true Democratic outsider in a campaign game that relies on insider contacts. It's a tricky balance.
On paper, the Republican field looks stronger based on the credentials of the candidates coupled with a nonplussed electorate over the state of the economy. Whether Danbury Mayor Mark Boughton, Trumbull First Selectman Tim Herbst, also rejecting lobbyist money, Shelton Mayor Mark Lauretti, former U.S. Comptroller General David Walker, or others in or who may get in, the Republican candidates have stronger stories to tell.
It creates an opportunity for an outsider. What we're doing now isn't working. What type of candidate can win November 2018? Insider baggage or outside reformer?
Mattei has a long way to go, but a start worth talking about.