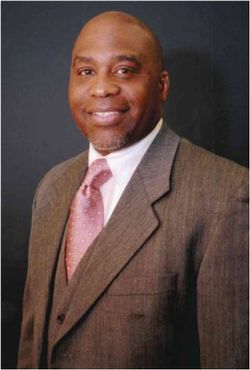 A day after his swing vote on the Board of Education approved the site plan for a high school to replace Harding on Boston Avenue property owned by General Electric, former East End City Councilman Andre Baker tells OIB his school board votes will not be swayed by candidate alliances he built for his election nor influenced by Mayor Bill Finch.

"I'm not going to be bullied into we ran together so we must always vote together," says Baker. "I do what's right for the kids. Whether Bill Finch supports the project or not, it does not matter to me. Bottom line is the kids."
Baker admitted to some fatigue on Wednesday morning following a marathon eight-hour meeting that began Monday night and lasted until 2 a.m. Tuesday.
(Is school board member John "Bags" Bagley snoozy? Who could blame him after the long Monday Night Fights. Chair Sauda Baraka is speaking. Bags coulda used some NoDoz during her speech. Education Bridgeport scribe Megan DeSombre, not a friend of school board leadership, shares this video.)
Baker represented the 139th District on the council where Harding serves students in the East End and East Side neighborhoods. The school board's 5-4 approval of the site plan now green lights a remediation plan by the state Department of Energy and Environmental Protection in support of the $78 million construction project on roughly 17 acres that was the site of a munitions factory and then former manufacturing plant owned by GE. The company will donate the property.
Baker has taken some heat for breaking from a Working Families Party coalition that argues more time should be given to review the clean-up plan. Baker counters the city has been searching for a new location to replace the physically challenged Harding for nearly 10 years and board members have had plenty of time to do their own diligence regarding a clean-up plan for the GE property. Baker ran on the WFP and Democratic lines last November.
He's also at odds with former Bridgeport WFP chair Maria Pereira regarding the city's compliance with the education Minimum Budget Requirement. Pereira, a former school board member, had a recent falling-out with WFP over the state party leadership's support for Governor Dan Malloy. Pereira announced she could not be part of a coalition that supports a governor who supported state control of city schools that was overturned by the Connecticut Supreme Court. Pereira, who's not bashful about sharing an opinion, posted some pointed remarks about Baker on the CT Post comments section such as:
Fran Rabinowitz, Andre Baker, Hernan Illingsworth and Joe Larcheveque are publicly supporting this ILLEGAL deal that serves to hurt over 20,000 public school students and their families. In-kind services cannot be counted towards the Minimum Budget Requirement. The law is quite clear that only CASH may be counted towards meeting the MBR. I am not shocked by Hernan Illingsworth or Joe Larcheveque, after all they are Finch puppets. Fran Rabinowitz needs to replaced as quickly as possible and a permanent superintendent with a back bone needs to be hired asap. Andre Baker is an absolute disgrace who has difficulty understanding and comprehending the most basic information. He WILL be removed in his next election.
For his part, Baker, the cerebral funeral home director, says he respects his peers on the school board and will continue to review all sides of education issues and register votes irrespective of personalities.