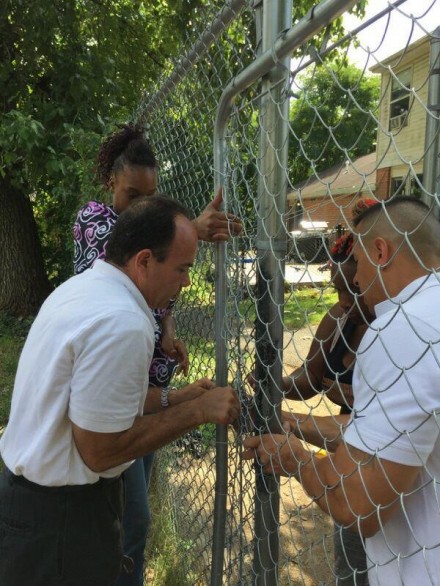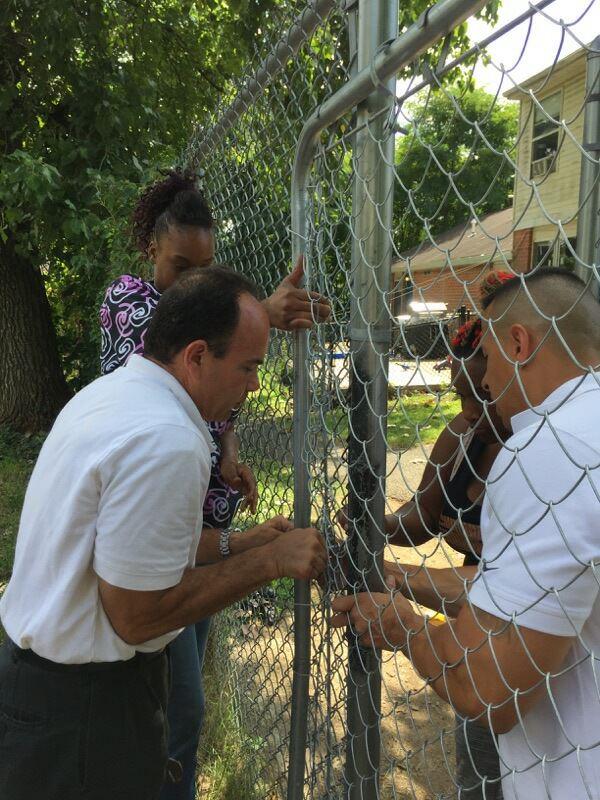 The most-watched mayoral race in Connecticut heated up in August with Mayor Bill Finch's campaign kicking out an inflammatory mailer accusing Joe Ganim of representing a white supremacist. In fact, Ganim served as a paralegal for a law firm that represented an African American acquitted in federal court of providing arms to a white supremacist. Ganim won black precincts overwhelmingly in the September primary. August also featured the first mayoral debate, more gun violence and Ganim fixing a hole in the fence at Trumbull Gardens housing project. August news review:

A mailer by Mayor Bill Finch's reelection campaign asserts after Joe Ganim spent seven years in prison he "went to work for a white supremacist charged with arming the KKK."
In a video expected to the make the rounds on digital media and cable ads, the campaign of Joe Ganim attacks Mayor Bill Finch on broken promises.
Democratic Town Chairman Mario Testa, his relationship with Mayor Bill Finch frosty, tells CT Post reporter Brian Lockhart "I'm the chairman. If they need the help, if they need somebody, they got to come to me. Why should I go to them?" Mario plays coy when asked who'll get his primary vote.
City policy wonk Jeff Kohut, 2011 petitioning candidate for mayor, says any thought of a regional sewer deal with the suburbs should be flushed down the toilet.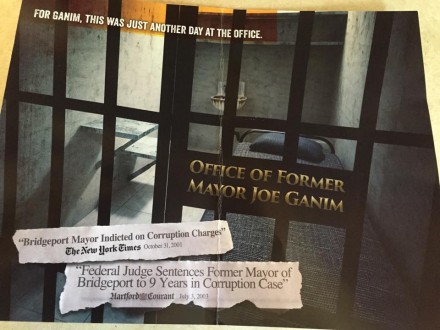 The latest Finch campaign hit piece on Joe Ganim focuses on the former mayor's felonious credentials as a result of his conviction on corruption charges in 2003. The two-sided mailer shows an image of a prison cell with the declaration "For Ganim, this was just another day at the office."
Joe Ganim's newest mail piece features a two-sided message of an image of him with the Webster Bank Arena built during his tenure and the flip side railing against high taxes and high crime.
Mayor Bill Finch today conducted a groundbreaking for construction of a new high school to replace the 90-year-old Harding on property owned by General Electric off Boston Avenue he would like named Barack Obama High School. The school is scheduled for completion in 2018.
Joe Ganim is calling on the Finch administration to provide daily crime statistics following a question raised by Wednesday night's debate moderator Ken Dixon of the Connecticut Post. Every Friday police officials meet with media representatives to review crime statistics.
The patch job Joe Ganim performed on a fence near Trumbull Gardens to keep out perpetrators has been perped.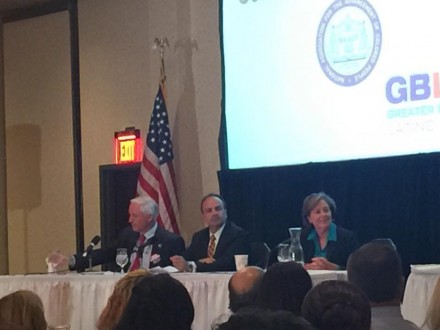 Three former allies now political enemies on Wednesday night squared off with some sharp elbows and barbs in the first mayoral forum in a packed Holiday Inn ballroom fronting the hotly contested September 16 Democratic primary. Debates are all about risk-reward factors. For some incumbents such as Bill Finch it's not a question of whether you emerge as a winner, but getting out of there with no blood on the floor. Challengers Joe Ganim and Mary-Jane Foster had everything to gain against a mightily financed incumbent who allowed them a platform.
It's just for three months but Kate Rivera was chosen Monday night to fill the Board of Education vacancy of Democrat Jacqueline Kelleher who resigned July 31.
Who's feeding Joe Ganim policy ideas like some sort of coin-operated meter? Former Fairfield First Selectman Ken Flatto? 2011 mayoral candidate Jeff Kohut? Others? Win or lose the September 16 Democratic primary, Joe Ganim has certainly proposed a series of initiatives for a guy not known as a policy wonk: public financing of local races, a clean-government Public Integrity Unit, new sidewalk plan to reduce city liability, police substations.
Joe Ganim says it's worth taking the potential heat for fixing a broken fence that neighborhood residents say contributed to crime. Ganim recently opened a headquarters/unofficial police substation in the Trumbull Gardens area.
The city's East Side has experienced a series of shootings over the past few weeks including another on Sunday.
From Ken Dixon, CT Post: The State Elections Enforcement Commission will investigate Joe Ganim's Bridgeport mayoral primary campaign, following a complaint from an East Side resident who claims he never signed a petition for the disgraced former mayor's candidacy. In response, the Ganim campaign said the person who collected the signature has since left the campaign.
Former Mayor Joe Ganim and the head of the Police Union supporting his comeback bid say Police Chief Joe Gaudett violated department policy by attending a "residents dinner" event for Mayor Bill Finch's reelection at Bridgeport Towers on Shell Street, a major battleground area for votes at the Aquaculture School precinct.
Calling the delay to implement property revaluation a "scripted shell game solely designed to keep Bridgeport voters in the dark," former Mayor Joe Ganim is asking the state Freedom of Information Commission to order the disclosure of property assessment information for the October 1, 2013 grand list of taxable property.
Bridgeport Police responded to a non-fatal shooting incident late Tuesday night in the area of Stillman Street & East Main Street.
The Town Clerk's Office is preparing for a blizzard of absentee ballots for the September 16 Democratic primary. Roughly 4500 absentee ballot applications have been signed out by political operatives for various campaign camps. The actual absentee ballots will be ready August 25, about three weeks before the primary.
What Joe Ganim's mayoral campaign lacks in organizational tightness it compensates with a premium on passion. Ganim lacks a traditional campaign manager, a consistently staffed media presence, or chief strategist familiar with Bridgeport campaign turf. And often Ganim, a relentless campaigner, appears to be candidate, chief cook and bottle washer. What the campaign does enjoy is mighty fundraising and an abundance of seemingly dedicated volunteers for a field operation responding to the comeback message of a candidate who's supremely confident in his decision-making.
Police are investigating two shootings, one that took place on the East Side just after midnight in the area of William Street and Barnum Avenue that left the victim in critical condition. The other occurred in the East End Sunday night.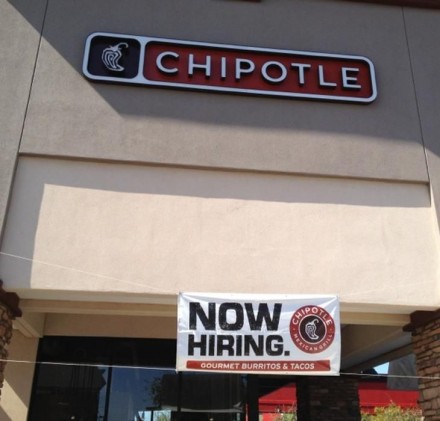 Mayor Bill Finch announced Chipotle Mexican Grill and Bass Pro Shops–which are slated to open new stores at Bridgeport's Steelpointe Harbor later this year–will be hosting job fairs over the next two weeks.
If all saints have a past and all sinners a future as Oscar Wilde suggested, Joe Ganim's comeback bid for mayor has certainly attracted an eclectic group of personalities.
Countering a flood of union endorsements for Mayor Bill Finch, former Mayor Joe Ganim on Thursday trotted out endorsements from 12 African American ministers with a message focused on taxes, finances and public safety.
Val Sorrentino, who was employed by the city from 1979-2013, shares this commentary that also appeared in the CT Post declaring there's more to the story of unions endorsing Mayor Bill Finch. She was Deputy Director of Human Services upon her retirement.
Former Mayor Joe Ganim says if you bring him back to City Hall, he'll launch a "Broken Sidewalk Program" promising to invest $1 million towards beautification that will also limit lawsuits that cost taxpayers money.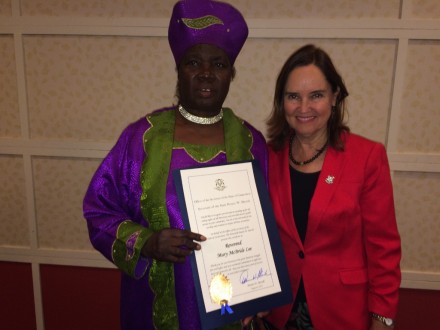 Charging Mayor Bill Finch meddled politically in a tribute to honor Rev. Mary McBride Lee's march at Selma in conjunction with the 50th anniversary of the Voting Rights Act, the city councilor and supporters protested Tuesday in front of the Margaret Morton Government Center.
Bridgeport police responded to a non-fatal shooting last night near the intersection of Newfield Ave. and Stratford Ave., and are asking the public for assistance in finding the suspects.
Today, the Fairfield County Labor Council (FCLC) announced they are supporting Mayor Bill Finch's re-election bid.
Backed by the retired FBI agent who locked him up, former Mayor Joe Ganim announced on Monday a proposal to create an Office of Public Integrity declaring it "must be independent and nonpartisan. It should have jurisdiction to have oversight of all aspects of Bridgeport's government operations, agencies, and authorities."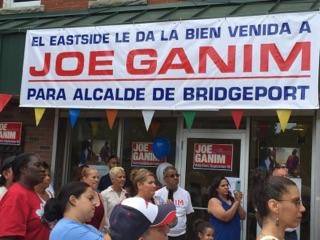 If the number of campaign headquarters matter in a Democratic primary, Joe Ganim's in the lead. He has a presence in the North End (2), East End and now the East Side. Could the South End, West Side and Black Rock be in the future?
Today, the New England Regional Council of Carpenters (NERCC) Local 210 announced they are supporting Mayor Bill Finch's re-election bid.
Opponents of Mayor Bill Finch accused Rich DeParle of serving as a November placeholder for the mayor if he does not survive the September 16 Democratic primary. Just days after forming a third party and presumably securing enough signatures for a general election ballot spot, DeParle reversed course and dropped out.
Asserting "special interests have dominated Bridgeport for too long," former Mayor Joe Ganim on Friday proposed an ordinance calling for the adoption of public financing of municipal elections modeled after a pilot program in New Haven approved by the state.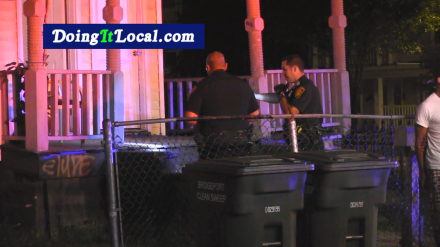 Police Chief Joe Gaudett on Friday hosted his first weekly crime briefing in which he shares updates on crime statistics, trends and police investigations. Crime statistics continue to show a trend of violent crime up this year from last year such as murders and shootings while overall crime is down.
It's just a little more than 100 signatures, if the Democratic primary for mayor is close, you have a second bite at the apple in the general election. It's possible Bill Finch, Joe Ganim and Mary-Jane Foster could face off in September and November.
If it's an election year it means more roads get paved. Public Facilities Director Jorge Garcia shares insight into the paving process via Steve Krauchick of Doing It Local.
Following a Connecticut Post front-page article Sunday challenging the veracity of information coming out of the Police Department, Mayor Bill Finch's communications team and Police Chief Joe Gaudett have announced a "three-pronged plan for enhancing media access to information from the Bridgeport Police Department."
Steve Krauchick of Doing It Local reports a shooting on Stratford Avenue early Monday morning outside a Chinese restaurant sent two to Bridgeport Hospital. Police sources confirm the shootings, saying the victims suffered leg wounds.