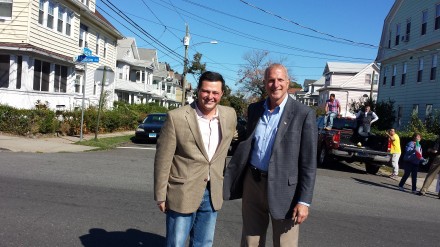 For 70 years it's been a gentlemen's club, save for one insurgent Elizabeth "Betty" Pfriem (class of 1986), the late publisher of the Bridgeport Post and Telegram, but the annual announcement of the Barnum Festival ringmaster still brings out the old timers, business leaders, government influencers and politically ambitious. The other day at the introduction of restaurant entrepreneur Johnny Vazzano as the 2018 festival leader CT Post Editorial Page Editor Michael Daly was there sizing up at least three candidates for governor, Mayor Joe Ganim, Trumbull First Selectman Tim Herbst and Shelton Mayor Mark Lauretti, all with roots in Bridgeport.

The early race for governor is wide open–incumbent Dan Malloy has opted out of another run–with no clear-cut front runner. Amidst a chaotic fiscal mess, key corporate brands leaving the state, Connecticut electors longing for the days of productive steady habits, gubernatorial candidates well known and otherwise seek a cast that reels in confidence. From Daly:
He found forgiveness in Bridgeport and, who knows, maybe Connecticut voters will be equally forgiving.

… A few minutes later, Trumbull's feisty first selectman, Tim Herbst, came into the room.

Herbst, too, would like to be governor. Also on hand was another hopeful, former Ringmaster Mark Lauretti, mayor of Shelton. It's tough to argue with his record. Herbst and Lauretti are Republicans. Most years, that would be like running a marathon while carrying a Steinway.

In 2018, though, given the conditions in Connecticut, it may be the Democrats who will be running with a handicap.
Full column here.