The Board of Education Monday night voted surreptitiously to hire Michael Testani superintendent of schools for three years starting July 1. He has been serving in an acting capacity since the departure of Aresta Johnson last summer. The vote was 7-2.
Testani's currently receiving $200,000 a year. He'll be bumped to $244,000, a similar amount to what Johnson had earned.
Testani's acting status was expected to last one year after the school board announced a national search to select a longer-term leader. They reversed that decision.
Board Chair Jessica Martinez, wearing a State Senator Dennis Bradley t-shirt, wrote on her Facebook page "raw and uncut."
Good morning! This is for the people, my people!

Superintendent Michael Testani, is doing an incredible job and he is the right man for the job as I knew when he was first chosen.

Instead of being negative. Instead of speculating. Instead of creating your own narratives. Instead of dividing a wounded community. Pray for your Board of Education, pray for all your elected officials and stand up to be counted for.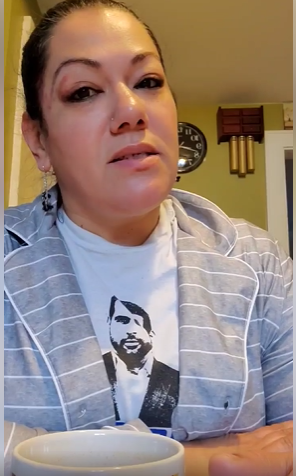 As word spread, the social media reaction to Testani's appointment came quickly Monday night.
Former board member Kate Rivera on Facebook:
The fix was ALWAYS in. Just a reminder: the Board passed over a Harvard-educated Black man with his certification and years of experience for a white guy with NO experience, no certification and no Harvard. The Board LIED to the public saying that he could never be hired permanently. Why wasn't the contract honored? (Again I have nothing against Mike personally.) This process & the back-room dealing w/o public input though is absolutely disgusting.
In one of her final acts last year as Connecticut Commissioner of Education, Dianna Wentzell approved the board's appointment of Testani to serve as acting school chief commencing August 1, 2019. He had been director of Adult Education. Her approval was necessary because Testani did not possess superintendent of schools certification, something he has been pursuing while serving in an acting capacity.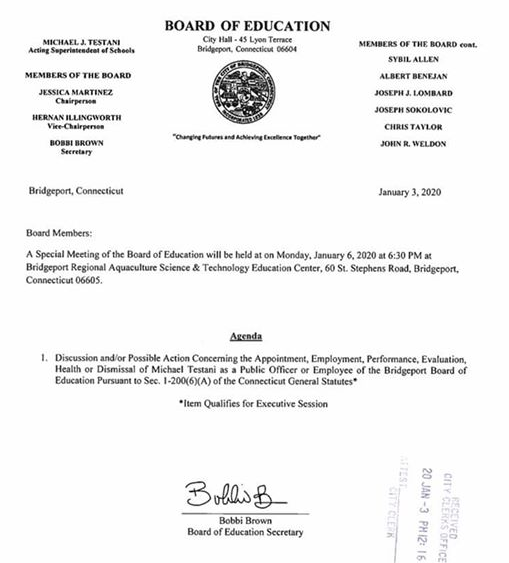 The ambiguous agenda posted Jan. 3 on the Board of Education website (see above) did not specify consideration of a three-year contract for Testani.
A May 2019 job posting, highlighted in bold, was unambiguous about the duration of the acting superintendent:
The individual selected as Interim Superintendent will be precluded from applying for the position on a permanent basis. As such, the Board will entertain a contractual provision returning any current BPS employee to their prior position at the end of this assignment, if they are selected as the Interim Superintendent.
Former board member Maria Pereira who opposed Testani's hiring had predicted a movement by the board to approve his longer-term status. Testani is well regarded by the city's political establishment, including Democratic Town Chair Mario Testa.
Board members Joe Sokolovic and Bobbi Brown voted against the three-year contract for Testani.
Board member Chris Taylor who's experienced residency issues of his own said he could not vote for Testani unless a residency provision was placed into the contract. Testani, a Fairfield resident, agreed to move into the city within a year.
See video of meeting above from Sokolovic Facebook page.