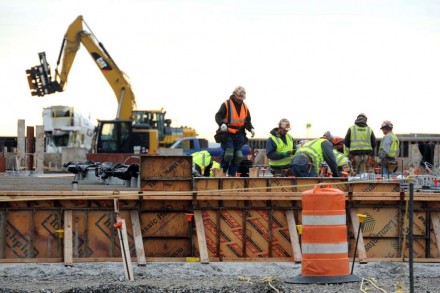 UPDATE: The City Council members who represent the district, Denese Taylor-Moye and Jack Banta, were instrumental in setting up PSEG's presentation to the City Council. "We went to (City Council President) Aidee Nieves and explained we need for them to come to the full council for a presentation to all of us," Taylor-Moye told OIB. She describes PSEG as a "neighborhood friend" responsive to concerns that she and Banta have expressed regarding the project. She added that as representatives of the district they are in regular contact with PSEG officials for updates about the power plant conversion and jobs program.
From Brian Lockhart, CT Post:
Trejo and Howlett are participants in Ready2Work, a $550,000 union apprenticeship course launched by PSEG Power LLC, operator of the harborfront coal-fired power plant. PSEG set up the program, which will train 50 applicants for free, as part of a 2016 deal with Mayor Joe Ganim's administration to replace the coal burning facility with a cleaner but still controversial gas-fired plant.
But even as PSEG touts those apprenticeships, the New Jersey-based company is under fire from some religious leaders who allege Ready2Work falls far short of promises made to obtain community support for the gas plant.

"They just think they are too big to be wrong or held accountable," said one critic, Rev. Carl McCluster.

So the City Council, which blessed Ganim's pact with PSEG–a deal he is touting while running for governor–is trying to figure out if the allegations have merit.

PSEG Vice President of Governmental Affairs Richard Thigpen called the criticism "misinformation." That was the word Thigpen used last Monday when he, accompanied by students like Trejo and Howlett, addressed the council. The council's economic development committee will also sit down with PSEG.
Full story here.