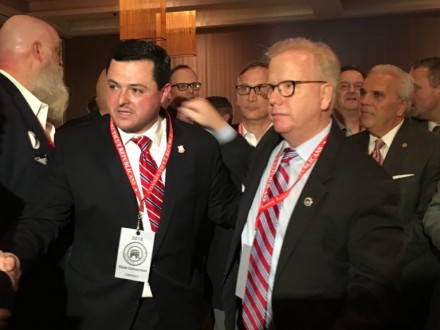 With deep roots in Bridgeport and eight years as first selectman of Trumbull, Tim Herbst carved out a futuristic profile as a fresh-faced outsider who could emerge as a statewide player in Republican politics. He was 29 years old in 2009 when elected chief executive of Trumbull knocking off incumbent Democrat Ray Baldwin. In 2014, he was the GOP candidate for state treasurer, running strongest among the Republican candidates for statewide office. Now he hopes to take out party-endorsed Mark Boughton, the mayor of Danbury, in an August primary for governor. Herbst is a guy who relishes in mixing it up, calling for multiple debates. And, for the most part, the restrained Boughton is not taking the bait, except for a well-placed rejoinder focused on Herbst's temperament.

(Full disclosure: I served as a Herbst campaign strategist his first three runs for first selectman.)
Herbst and Navy veteran Steve Obsitnik qualified for the ballot at the party convention last month. Other Republicans including Shelton Mayor Mark Lauretti are trying to petition their way into the primary, a daunting task for GOP candidates who must spend most of their time tracking Republican signatures along the large-acre zoning of Connecticut's Fairfield County Gold Coast.
Herbst and Boughton as chief executives both have strong stories to share about governing, skilled at framing real-life experiences in the quest to become governor. They have in common party affiliation and educational influence. Herbst's parents were educators and Boughton a former school teacher. They have conservative credentials to rally the party faithful loathe to Connecticut's spending and deficits. Herbst in Trumbull attacking generous public employee pension funds; Boughton as mayor highlighting immigration as an issue in his city long before Donald Trump's national border cry.
But as personalities they're antithetical: Herbst roar and soar; Boughton reserved and reflective. It makes for a sporty match-up and right now Herbst is mostly making it about Boughton in the primary and presumably Democrat Ned Lamont in the general election. In the primary Herbst's running to the right. If successful in the primary does he pivot deftly to the middle to reach the large bloc of unaffiliated voters who settle statewide races in Connecticut?
What's the best personality for a cranky Connecticut electorate? Depends on what they say and how they say it. Most electors vote on the future. Contrasts matter, something CT Mirror reporter Mark Pazniokas draws upon in this story:
"Which of the three of us presents the most clear, the most distinct contrast to Ned Lamont?" Herbst asked. "I think of the three of us, I'll be the most clear and distinct contrast in this sense: You're not going to beat a retread candidate with a retread candidate. Ned Lamont has run twice for governor. Mark Boughton has run three times for governor."

… Herbst casually, almost sympathetically insults Boughton, the convention-endorsed candidate, saying he would happily have deferred to the long-time Danbury mayor–if only he thought Boughton had the stuff to win on his third time out.

"Look, I wouldn't be in this race if I thought Mark had the assertiveness, the strength, the fortitude, the grit to make the tough decisions to do what needs to be done," Herbst said. "I just don't think he has it in him. And I wouldn't be in this race if I thought he did."

Boughton and Obsitnik largely ignore the gibes, though Boughton responded to the debate challenge by telling The Courant, "We don't let our campaign cave to a Timmy temper tantrum."
Full story here.
The GOP primary will be testy and heavily nuanced, with some well-placed verbal grenades tossed back and forth.
A larger field, splitting up the GOP moderate vote, figures to help Herbst reaching a conservative flank. But what if someone like Lauretti, it's a big if, makes the primary ballot? His core support comes from towns in the lower Naugatuck Valley that went for Donald Trump in 2016. Would Lauretti poach those votes from Herbst? Will Boughton prevail as the endorsed candidate? And will Obsitnik emerge as a sleeper in the primary?