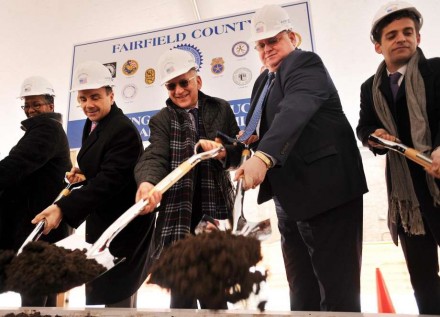 A complex $120 million finance package now in place, city and state officials on Tuesday joined Mayor Joe Ganim and developer Gary Flocco at a groundbreaking for the first phase of the Cherry Street Lofts, a mixed-use project in the West End bordered by Cherry Street, Hancock Avenue, Railroad Avenue and Howard Avenue consisting of eight buildings two of which will be demolished due to structural deterioration.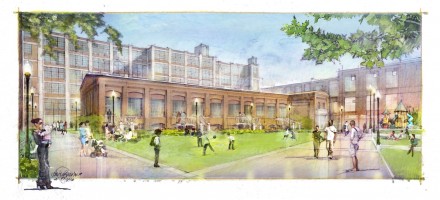 The six remaining buildings, according to the developer, total roughly 460,000 square feet and have been approved for 311 residential units and the Great Oaks Charter School. The school is expected to be completed by fall of 2018.
CT Post reporter Keila Torres Ocasio has more:
"I have to pinch myself," said Gary Flocco, head of developer Corvus Capital. "Over the last three years, it's been about solving problems. Now it's coming to fruition."

… While some of the apartments will rent at market rates, 80 percent, or 126 units, will be set aside for those making no more than 60 percent of the area median income. Some units will also be set aside for tutors at the school.

The second phase would rehabilitate the oldest buildings on the block bounded by Cherry Street and Railroad, Hancock and Howard avenues into a mix of housing and retail. A grocery store is also part of the plan.

Mayor Joe Ganim noted this is the first major development project launched since he returned to office in 2015. He said he has been waiting decades to see progress on transforming the factory buildings into something Bridgeport can be proud of, especially considering their derelict state leaves drivers on Interstate 95 with a negative impression of the city.
Full story here.
Additional info from developer:
A facelift has begun on Bridgeport's most visible, dilapidated industrial site. Bridgeport Mayor Joseph P. Ganim and state officials broke ground yesterday on the first phase of the Cherry Street Lofts redevelopment project. The project includes 157 new residential apartments at the West End site along I-95. The Mayor was joined by community members, union officials, government representatives, bankers, and investors.

"When you're coming in on I-95, or on the train, this area is the visual gateway into Bridgeport. It leaves a lasting impression. This is the most significant project that we've seen since I've been reelected and I'm honored to be a part of it. Let's get it going!" Ganim remarked.

Officials say it will be between 18-24 months before the first apartment is available. The first phase involves cleanup and adaptive reuse of the former factory. Developer, Gary Flocco of Railroad Avenue Lofts LLC said, "We are creating 250 jobs and building a school that will provide a first-class education to our children which will ensure our future. I am thankful to our partners and the Bridgeport community for their continued support."

In addition to 157 residential units, the development will consist of a community facility, a gym, and 40,000 sq. ft. of outdoor recreational space.

In all, the AFL-CIO Housing Investment Trust (HIT) is investing $35 million to renovate the historic buildings into multifamily rental units, helping to transform the Bridgeport neighborhood–a transformative project located adjacent to the Amtrak/Metro North rail line and I-95.

Andrew Nolen Pfeifer, Investment Officer for the HIT said, "We are pleased that our first investment in Connecticut will provide affordable housing opportunities to working families in Bridgeport."

The HIT is purchasing bonds issued by the Connecticut Housing Finance Authority (CHFA) for the $54.4 million adaptive rehabilitation of two historic buildings into 157 apartments. Eighty percent of the units, or 126 apartments, will be affordable to residents making no more than 60% of area median income (AMI).

The first multi-family new construction in the area in over a decade, it will be built with 100% union labor. The project is expected to create approximately 235 jobs for members of the local building and construction trades council.

Peter Carroll, President of the Fairfield County Building and Construction Trades Council said, "We appreciate HIT's commitment to and support of union construction and recognize the benefits this work can provide to the workers and the community."

This transaction came to fruition after several years of close coordination between HIT, CHFA, the City of Bridgeport, and the Fairfield County Building Trades, as well as the development team of Corvus Capital Partners, LLC and The Pacific Companies, the general contractor Construction Resources, Inc. (CORE), and tax credit syndicator City Real Estate Advisors (CREA).

The historic structures were originally built as a factory for the American Graphophone Company in the late 1800s. In the last 30-plus years, the area became vacant and blighted. The neighborhood, which was previously an industrial area, has seen recent improvements as part of the first phase of the city's Neighborhood Revitalization Zone Plan: West Side/West End. It is now home to more diverse businesses, including retail, light manufacturing, and antique centers, as well as two new schools and a police station.

"The Cherry Street Lofts and its spark of new economic activity will create new affordable housing, support revitalization of the City's West End Neighborhood and is a very visible investment in one of the gateways to Bridgeport," said Karl Kilduff, Executive Director of the Connecticut Housing Finance Authority.

The site is also located within the boundaries of the newly created Bridgeport Eco-Technology Park in the city's West and South Ends.