Families for Excellent Schools, the charter school advocacy group, is expected to submit more than 10,000 petition signatures to the Board of Education next week "in support of system-wide change that would give every Bridgeport student access to a high-quality school," according to organizers.

Some FES canvassers have had a running battle with former school board member Maria Pereira, opposed to charter schools, who has filmed them while seeking signatures in city neighborhoods. On Tuesday FES released two videos of canvassers discussing their efforts to build support to improve city schools.
The first video in the 'Unite Bridgeport' campaign features Ernest Davis whose granddaughter attends Waltersville School. He talks about creating opportunities for kids to avoid incarceration.
Sisters Louise Galindez and Doris Camargo, whose children attend Columbus School, speak about why they got involved in the city-wide education effort.
More than a dozen canvassers for the "Unite Bridgeport" campaign will collect petitions through the coming weekend, with the goal of gathering 10,000 signatures by the end of September, and presenting them to the Board of Education next week.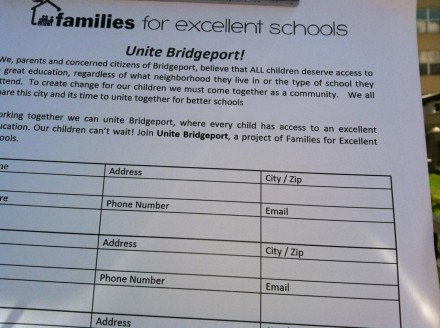 Although FES is a pro-charter organization, organizers say this effort isn't only about charters. The goal is to find some common-ground solutions with school leaders for improving all schools.
Kara Neidhardt, state director for Families for Excellent Schools says, "What we're hearing every day is that people are tired of infighting, they are concerned about the city's failing schools and want to come together as a community to create change. These petitions send a powerful message. We're very encouraged by the feedback we've received from Bridgeport parents and residents."