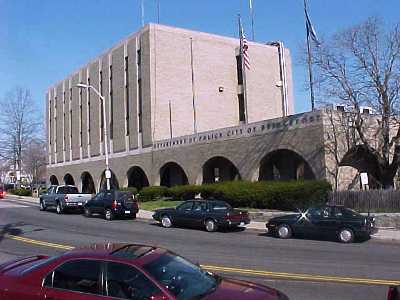 Retired city firefighter Andy Fardy writes if the potential candidates for mayor (crickets) won't weigh in about public safety, he will. From Fardy:
It's time for the mayoral candidates to step up and address public safety. To date none of the potential candidates have done so.
The Police Department is down from approximately 420 officers to a present day staff of 370. There is a class of 17 in training but that is just a drop in the bucket. The lack of officers is hurting the overtime budget thus hurting the taxpayers. Before the exodus of police officers due to retirements and leaving for other jobs we only had 21 patrol officers patrolling our streets per shift.

There seems to be two main reasons people are leaving the police department and they are morale and and the new lucrative pension system. First, morale is at an all-time low and the average cop feels he is being supervised to death and that may be true as we have 105 sergeants, lieutenants, Captains and Chiefs in a total force of 370.

The pension Finch and company negotiated allows officers to retire after 25 years with an average of the three largest-earning years. Here is an example, a patrolmen has three years in which he earns $100,000 per year, he retires with 25 years on the job, his pension will be $50,000. Under the old pension contract Finch got rid of, that same officer would have retired at $31,000. To add insult to injury, the officer can use their outside overtime to add to their pensions.

The problems facing the fire department came home to roost this past week. Previous mayors have closed down so many fire companies, we now depend on the surrounding towns to help us fight many of the fires we have today. But I believe and I could be wrong, the city has closed six fire companies in the last 20 years. They also have negotiated downward the number of men who man each piece of equipment. The fire department has the same pension as the police department but not the overtime the police department has.

There are other issues no one wants to address and that is a maximum age for public-safety candidates and areas where recruits come from.

First, maximum age limits are perfectly legal in the public-safety arena. We keep putting people on the police and fire department who are in their mid-40s and 50s. This is too old and in many cases the applicant will not be able to perform the job when they are 65 and still can't retire.

The present class has two candidates in their 50s who will need to be 75 years old to retire. What 23-year-old thief are they going to chase down? Same with the fire department candidates in their 40s and 50s, just can't do the job without jeopardizing themselves and those they work with. Hiring these older people also puts a strain on the pension system. Federal firefighters are required to retire at age 57.

Second, the candidate list is drawn from all over whereas in the past you had to be a Bridgeport resident. Why we went to the extreme and allow anyone from anywhere take the exams is beyond me. There is no Federal ruling that states you have to open up your testing to more than your residents. What's wrong with hiring just Bridgeport residents, they know the city and more so they know the people who live here. The public safety contracts allow police and fire to live outside the city but who knows, maybe the city candidates will stay. We need to put our citizens to work.