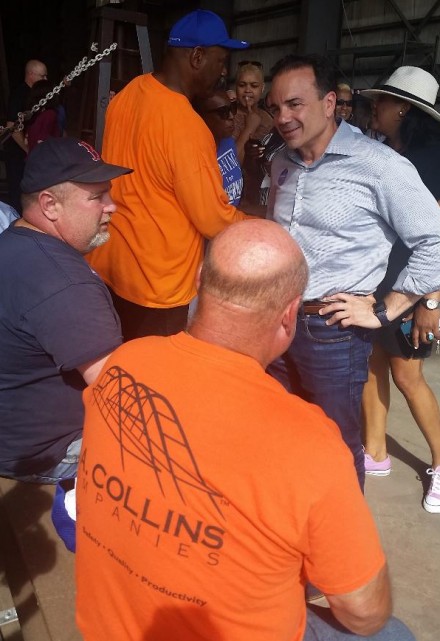 Mayor Joe Ganim on Monday culled a gubernatorial campaign boost from organized labor that represents nearly 8,000 union households in Connecticut, a much-needed lift of boots on the ground in the face of party-endorsed Ned Lamont enjoying a majority of union support that helps drive turnout in Democratic primaries, in addition to the millions of his personal wealth he will spend for the August 14 primary. A coalition of unions representing electrical workers, operating engineers and plumbers and pipefitters rallied at a newly configured East End boat yard for Ganim.

Three weeks from the Democratic primary for governor Ganim received the endorsement of the International Brotherhood of Electrical Workers Local 488 of Monroe, the International Union of Operating Engineers Local 30 in North Stonington, the International Union of Operating Engineers Local 478 in Hamden and the United Association Local 777 Plumbers and Pipefitters in Meriden.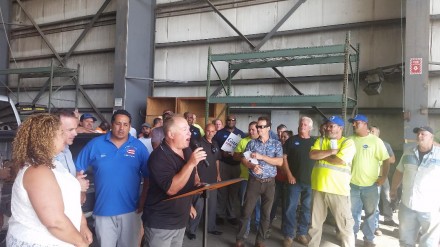 Operating Engineers leader Craig Metz declared "Bridgeport needs to be first. It's always Bridgeport that pulls in the Democratic Party … We support Mayor Joe Ganim for the solid commitment that he has made to rebuilding Connecticut one block at a time and, the hard work that he has done promoting employment opportunities and creating the type of economic stability on which our state's middle class is built. We fully recognize the unprecedented challenges that Joe Ganim has faced and overcome throughout his career in public service."
These endorsements represent an outlier for Ganim against Lamont. Why go against conventional support? Union leaders cited their history with Ganim, local school construction, Steelpointe Harbor redevelopment work and potentially future work with MGM's proposed waterfront gaming destination in Bridgeport that Ganim embraces and Lamont generally tiptoes, something that requires support from the next governor and legislative approval. Lamont has recently hardened his support for a casino, pushed there by Bridgeport's Democratic-rich votes, as reported by the Connecticut Mirror.
"Ned supports an open competitive bidding process as a potential way to bring a casino that will create jobs and economic development in Bridgeport," the campaign said. "He also wants to explore other economic development opportunities that might serve and meet the needs of Bridgeport residents. Ned would welcome a multi-million dollar investment from a developer that wished to make Bridgeport a resort and destination, providing entertainment venues, local jobs and opportunities to the people of Bridgeport and beyond."
"Plain and simple, Joe Ganim has helped put food on the table for our members and their families," said Local 777 Business Manager Michael Rosario. "He recognizes that supporting groups with great training programs in place provides Connecticut residents with a path to a career, not just a job. Careers that provide economic security for men and women through their working years and into retirement. Being a person who connects with people gives Joe Ganim a great insight of the struggles the average worker faces. I believe that this insight better prepares him to make critical decisions as they affect real lives."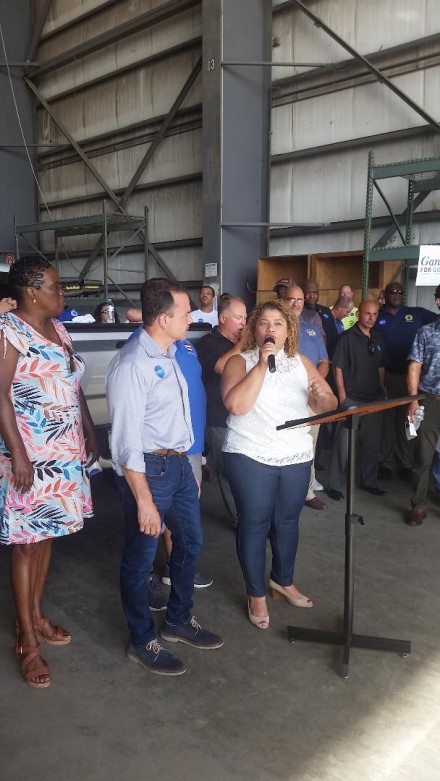 City Council President Aidee Nieves was front and center at the endorsement rallying the crowd to support Ganim. If Ganim shocks Connecticut to become governor she'd replace him as mayor.
"While working with Mayor Ganim on many projects in Bridgeport, I noticed his desire to do the best for the city and its residents," said IBEW Local 488 Business Manager Peter Carroll. "We feel he can bring the same commitment to the state and the people that live here. He is rebuilding the largest city in the state and he could do the same for Connecticut."
The union event was well attended by reporters from the Hartford Courant, Hearst Media and Connecticut Mirror, some of the many media outlets who were shocked by Ganim's return to the mayoralty in 2015, following his 2003 conviction on federal corruption charges.
Ganim will be outspent heavily in the final weeks by Lamont, the Greenwich plutocrat who enjoys many financial and organizational campaign advantages.