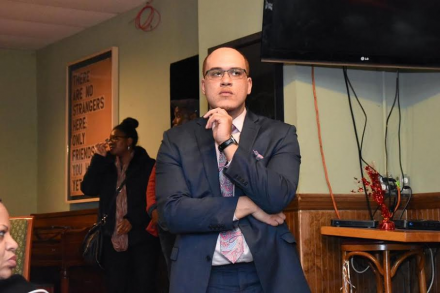 State Senate candidate Aaron Turner, challenging party-endorsed Dennis Bradley, submitted roughly 2,500 signatures in his quest to forge an August primary in the 23rd District currently occupied by a retiring Ed Gomes. Carolyn Vermont, former director of the Greater Bridgeport NAACP, is also trying to qualify for a primary. Challengers need 1,585 verified signatures.

From the Turner campaign:
"First and foremost, I want to thank every family member, friend, and supporter who gave up their valuable time to come out and help get this done," Turner said on Tuesday. "It's funny, I started this campaign as the underdog, and I still am, but over the past two weeks seeing the outpouring of support has been a clear reminder that being born and raised here means something, knowing what average folks are going through on a day to day basis means something, and having the experience in Hartford to get things done once elected, means something. From the beginning, we have seen this campaign as being a voice for the people, so it is humbling that it is their voice that is giving me an opportunity to run today."

Max Medina, local attorney and former President of the Bridgeport Board of Education, was enthusiastic about Turner's campaign on Tuesday. "Aaron's team was not made up of the usual political folks you see working on these campaigns," said Medina. "It was his aunts, uncles, cousins, high school friends, middle school friends, former coworkers, people he met through his local advocacy, and so many more who came out because they believed in the core values of his campaign. It was a privilege to be a part of this process and I look forward to continuing to work to get Aaron elected over the upcoming months."

Senator Ed Gomes expressed his support for Turner on Tuesday. "It is no surprise that people gravitate towards Aaron's campaign," Senator Gomes stated. "Aaron doesn't need to be explained why people struggle to pay bills at the end of the month, he doesn't need to be explained why gun violence and drugs are tearing apart our communities, and he doesn't need to be explained why our public education system is struggling. He knows these things because he has dealt with them his entire life. The choice of who should be our next State Senator is clear, and that choice is Aaron Turner."

Turner has been actively involved in the community since 2010. He currently serves as the Governmental Relations Chair for the Greater Bridgeport NAACP, and serves on the Board for the Bridgeport YMCA. Turner also helped organize police accountability rallies in Bridgeport following the Trayvon Martin and Michael Brown cases to promote awareness regarding the wrongful deaths of people of color throughout the US. In 2016 he revived the Greater Bridgeport Young Dems chapter, and currently serves in the leadership for the Connecticut Young Democrats.