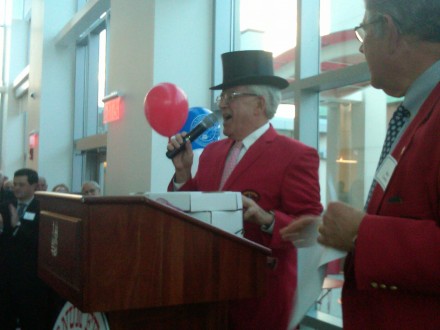 His initials are P.T. just like the legendary Phineas Taylor Barnum, and on Thursday Paul Timpanelli, who has served for 25 years as president of the Bridgeport Regional Business Council, was introduced as the 2014 Barnum Festival ringmaster at Sacred Heart University where he graduated, and followed up with a teaching profession, election as Trumbull's first selectman before becoming head of the business organization in 1988.

Timpanelli told a crowd of about 100 in the Edgerton Center For Performing Arts at Sacred Heart, attended by several former ringmasters, Mayor Bill Finch and Trumbull First Selectman Tim Herbst, his goal is to build the Barnum Festival into an economic driver for the city by promoting Barnum's contributions to the city and world progress as businessman, entrepreneur, innovator and economic development leader. "None of our city's or our region's or our state's problems and challenges can be successfully addressed without our success in this arena–the creation of jobs."
Barnum lured to Bridgeport industrialists such as sewing machine innovator Elias Howe and the landscape genius Frederick Law Olmsted who designed Seaside Park from land donated by Barnum. Barnum was also a leader in the establishment of the city's banking industry, public library system, Bridgeport Hospital and water company. He also developed the East Side of Bridgeport that became home to European immigrants attracted by the companies Barnum helped establish.
Timpanelli pledged to build upon the momentum of 2013 Ringmaster John Stafstrom who introduced the Barnum's Got Talent vocal competition that attracted a regional draw of school students showcasing talent at city venues such as the Klein Memorial Auditorium and Connecticut's Beardsley Zoo. Stafstrom also infused Barnumesque flare not seen in decades even riding on a camel with his spouse Dennis Murphy under the big top at the Ringmaster's Ball in Seaside Park. Hey, maybe Timpanelli can ride in on elephants and donkeys … that should satisfy both political parties. Timpanelli's also a Rock & Roll historian who sings bass in the doo-wop group Yesteryear.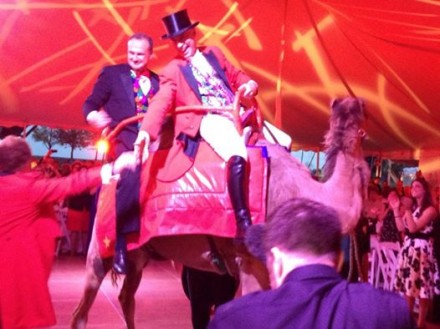 Timpanelli added that he wants to "create a regional festival that will provide opportunities to bring new people into our region to be entertained that will result in their spending money here and in their having an economic impact that will help us in our mission … in the mission of P.T. Barnum … to create a better place for our people to live and raise a family.
"All of us at one time or another have heard the famous, or the infamous quote attributed to P.T. Barnum … 'there's a sucker born every minute.' No one has ever really proven that Barnum said that, but I think we can all rest assured based upon what we know about the man, that P.T. may not have said 'there's a sucker born every minute' but he likely did say there is a dream born every minute … there is a hope born every minute … there is a victory born every minute … there is an opportunity born every minute … there is a person worth helping and a person worth saving and a person worth nurturing, yes … every minute … and that ultimately is going to be our goal … we have a real opportunity to make change in people's lives by making this festival all that it can be … just as my wife Carol helped to make change in my life, just as Sacred Heart University helped to make change in my life, we are going to as a team, all of you in this room … have the time of our lives and to help to create dreams, create hope, create victory, create opportunity for many others."