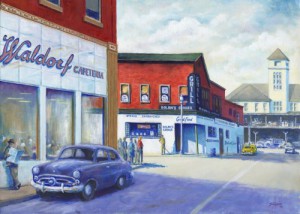 From John "Salty" Soltis, Bridgeport Public Library:
The Bridgeport History Center presents: Lou Trapasso Poet-Painter who has painted numerous works depicting the buildings and city life of Bridgeport in the 1940s and '50s. On Saturday, Oct. 19th at 2pm, a reception will be held to thank Mr. Trapasso for his recent gift of five of his original paintings to the Bridgeport History Center.


The paintings are currently on display on the second floor of the library.

Historian Charles Brilvitch will also give a talk about Main Street in the Forties. Free refreshments will be served.