Update: New link to city website is up under Government, here.
Nice to be a pilot with your own plane. Morgan Kaolian, octogenarian extraordinaire, has a passion for Pleasure Beach in photos and phonetics, as he writes to the Park Board in an appeal for preservation.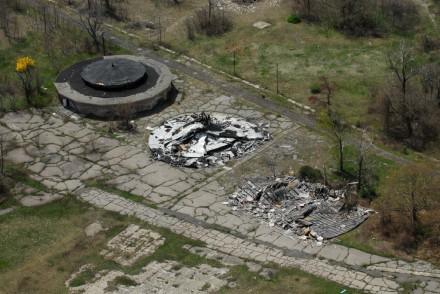 Dear Honorable Parks Board Members:

This a request to save the old Polka Dot Playhouse at Pleasure Beach. We should not allow this building to meet the same fate as the Carousel Building and the Dodge 'Em Cars Pavilion.

An aerial survey by me this afternoon (April 19th at 1:10 PM) revealed weather damage on the east side of the Playhouse roof. An aerial close-up is attached herewith. At this point in time a simple roof repair will save the cancer from spreading, and it should be stopped. This because a determination by the Board to save this building for possible future use has yet to be made. (See the close-up aerial of the roof damage.)

Also, the metal boat ramp at the pier has been damaged and it could fall into the water and become a very expensive fix, Perhaps Robert Scinto the harbormaster needs to be advised.

These are items that are simple fixes now, but later can be extremely costly.

And finally, at some point the Board needs to make a statement as to its plans to allow or forbid any future sale of Pleasure Beach to any entity–government or private. Accessible or not, Pleasure Beach still belongs to the people of Bridgeport. This priceless park and beach needs to be protected for the present and future generations.

Morgan Kaolian, Founder/Director

LONG ISLAND SOUND AMERICA, INC.
Harbormaster Bob Scinto's response to Kaolian:
"I have contacted Ocean Coastal Consultants to review the damage to the landing dock at Pleasure Beach and quote a price on its repair. The proposal has been forwarded to Public Facilities for further review."
Wheeler Dealer
Gutzon Borglum, the sculptor of Mount Rushmore, is right up there with Frederick Law Olmsted (Seaside Park, Beardsley Park) and Henry Bacon (Perry Memorial Arch at Seaside Park entrance) in his design contributions to the city. Mayor Bill Finch rededicated the Wheeler Fountain late this afternoon, after extensive repairs, at an event at Fairfield and Park Avenues.
Wheeler Fountain Then …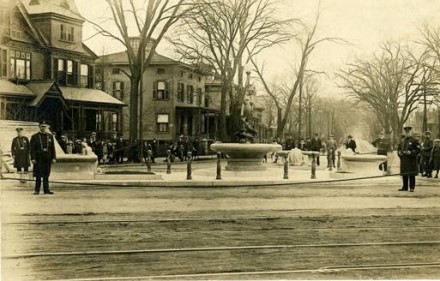 And now …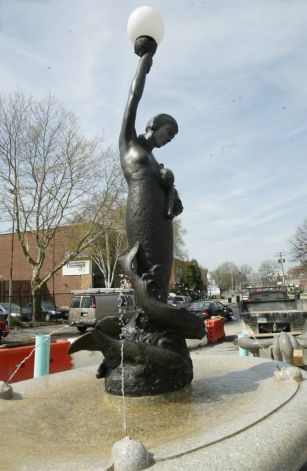 From Dan Malloy
MALLOY PASSES $200,000 IN QUALIFYING CONTRIBUTIONS; NOW MORE THAN 80% OF THE WAY TOWARD $250,000 GOAL

Says he's 'on track to qualify before the Convention'

After raising more than $100,000 in qualifying contributions in the month of March alone, the Dan Malloy for Governor campaign's strong fundraising efforts have continued into April. The campaign announced today that it has now passed $200,000 in total qualifying contributions towards Connecticut's Citizens' Election Program. To qualify for up to $8.5 million, a candidate must raise $250,000 in small contributions of $100 or less.

Since declaring his run for Governor, Malloy has more than doubled his qualifying contributions, with small donations from more than 2,818 contributors.

"Our recent groundswell of fundraising support is proof positive that Dan's message is resonating, and that we're building the kind of grassroots, bottom-up campaign that will lead to victory in August, and in November," said Campaign Manager Dan Kelly. "People aren't just excited about Dan's candidacy, they're also clearly glad to be supporting Connecticut's clean elections law. They want to make Dan Malloy the first Governor elected under the Citizens' Election Program."

Concluded Kelly, "Dan's the only candidate who has grown jobs, expanded access to health care, built affordable housing, lowered crime, and balanced 14 years of consecutive budgets. That's experience money can't buy."

Malloy has traveled the state in recent months meeting with community leaders, elected officials, members of the labor and business communities and others, sharing his ideas for moving Connecticut forward. He recently outlined his position on a number of issues critical to Connecticut's future, such as jobs, the economy, education, transportation, and more. The information is available now at www.danmalloy.com
From Ned Lamont
Today, Democratic candidate for governor Ned Lamont announced support for his campaign from fifteen elected officials in Seymour, Ansonia, and Derby. Lamont has been visiting with Democrats across the state, discussing his plan to get Connecticut's economy moving forward and listening to their priorities for the next governor.

"I'm proud to endorse Ned for governor, because we need a leader in Hartford who isn't afraid to make bold choices. Ned has stood up to the establishment time and again, and he has the right plan to get our state moving again," First Selectman Paul Roy said.

"Ned brings a fresh approach to meeting the challenges we face here in Connecticut. We need those fresh ideas now more than ever, and we need a fierce advocate who will make things happen. Ned is the candidate I trust to make the changes we need," said Town Chair Eileen Krugel.

"Having served in Hartford, I know how important it is to have a governor with a clear vision for the state, and the courage to lead us in a new direction. Ned Lamont will bring an executive approach to the governor's office that we've been missing for over twenty years, and that's why I'm supporting him," said Former State Rep. Tonucci.

The following officials have endorsed Lamont for governor:

• Seymour First Selectman Paul Roy
• Ansonia Acting Mayor Steve Blume
• Ansonia Town Chair Eileen Krugel
• State Representative Linda Gentile
• Ansonia Delegate John Gentile
• Ansonia Former Mayor and Delegate James Finnucan
• Ansonia Former Mayor Lester Hale
• Former State Representative Vincent Tonucci
• Derby Former Mayor Marc Garofalo
• Derby Delegate Tom Lionetti
• Ansonia Alderman and Delegate Gene Sharkey
• Ansonia Alderman Jerome Fainer
• Ansonia Alderman Scott Nihill
• Ansonia Alderman Robert Beall
• Ansonia Delegate Kevin Blake