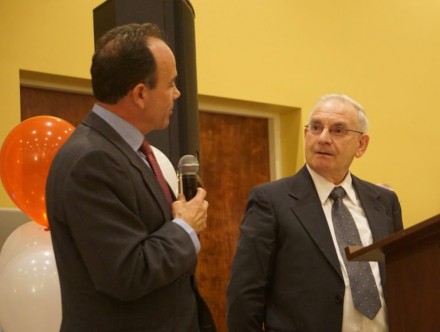 Joe Ganim's in the 2018 race for governor, an exploratory phase anyway. Now what? He raises money while waging a parallel campaign to qualify for the state's public financing program either through an administrative remedy or court action. And along the way he needs to choose his words carefully about what he says about pols in Hartford who influence the flow of dollars to the state's largest city.

The notion that Ganim should step down from the mayoralty as he explores a run for governor is a fallacy. Where else will he earn a salary/benefits package worth $160K? Also, he leaves office and his fundraising base is toast. His only shot to be a relevant player is to raise money and tout city successes, real or imagined, as part of an eventual message.
To some, Ganim's ambition is galling.
Ganim is acting no less ambitious now than JG1 when at 34 years of age in 1994 he became a candidate for governor shortly after winning a second term. How did that happen? The then-publisher of the Connecticut Post Dudley Thomas had a man crush on Joe. Thomas had a fancy for running a newspaper and fantasy for running Bridgeport. He was always barking in Joe's ear about doing this and that.
At the time I was Joe's political adviser. Incumbent Governor Lowell Weicker, who treated Bridgeport benevolently, did not seek reelection. In early 1994, I received a Saturday call from the late John Gilmore, a seasoned journalist at the Connecticut Post who was friendly with Thomas. "You're not going to believe what you see in Sunday's paper."
And there it was screaming across the top of the front page: Our Choice For Governor. Dudley Thomas, by fiat, endorsed Ganim for governor when Joe wasn't even in the race. That's all Joe needed. "Now we have to run."
Running for governor was different then, largely an insider's game. The only way to qualify for a primary was securing 15 percent delegate support at the party convention. Direct primaries through the signature route did not exist. So off we went around Connecticut to parts unknown into the Litchfield hills, to the southeast corner of the state along the Rhode Island boarder and northward near the Massachusetts line to pitch Democratic insiders about why they should look at this young new mayor as a gubernatorial prospect who resuscitated the city from bankruptcy. Senate President John Larson, State Comptroller Bill Curry and State Senator Richard Balducci were also in the race and the candidates often crossed paths to pitch delegates.
As the convention approached, Joe's campaign was cash-rich and delegate-poor. We had to shake up the race a bit so we flooded the television airwaves (social media as we know it today did not exist) with an outsider's message framing the party insiders in Hartford as all talk, no action. It struck a nerve. Senate Majority Leader Bill DiBella, a Larson supporter, called. "You remind your mayor that his city is still on life support." Translation: keep it up and we'll cut off your financial cashews.
Well, at some point they're going to need us, Joe responded. So we pressed on, but pragmatism kicked in. Joe did not have enough delegate support to primary the party endorsed candidate.
Joe backed out of the race one week before the Democratic convention throwing his support behind likely endorsed candidate Larson (today Congressman Larson) with the hope he'd select Joe as his running mate.
During the Democratic convention in Hartford, as Larson's boys including DiBella pondered selection of the second slot, a contingent of Connecticut mayors who wanted one of their own on the ticket adjourned to a watering hole in the Hartford Civic Center, among them Hartford Mayor Mike Peters and Waterbury Mayor Ed Bergin as well as Bridgeport Democratic Town Chair Mario Testa and Ganim.
Mayor Mike and Mayor Ed were lubing up the joint. They were feeling pretty good. Finally the call came. Larson had made his decision. They all squeezed into a conference room while delegates in the civic center convention hall waited for an answer.
Larson, facing dozens of Democratic big shots, announced, "I think it's time to embrace Rich Balducci," he told the crowd. Emerging from a back room thumping his chest, Balducci announced, "I want everyone to know that I'll be running as an independent lieutenant governor," suggesting he'd take the second slot but he'd not be breaking his ass for the ticket. Balducci had also given his word to Curry that he would not work against him.
The place was in stunned silence. This is the person Larson chose? Testa would have none of it. The little man with big ones edged closer to Balducci. "Wait a minute, Mr. Balducci," declared Testa in his Italian accent, "are you telling us you're not going to support Larson?"
Balducci stammered on his words. In a flash there was chaos.
"What the fuck is going on around here!" Mayor Peters screamed.
"Yeah, what the fuck is this!" Mayor Bergin yelled.
Peters walked up to Larson and declared: "We're going to settle this right now."
Peters, Bergin and New Haven Mayor John DeStefano circled with Ganim. "Joe," Peters asked, "do you want to be lieutenant governor?"
Joe nodded yes.
"That settles it," Bergin chimed in.
The mayors walked up to Larson and said "Enough of this horseshit, Joe's gonna be the candidate." So it was done. That's how 34-year-old Joe Ganim became the candidate for lieutenant governor in 1994. It didn't work out. Larson lost the primary to Curry (who did not select a primary running mate) and Curry lost the general election (with Joe as his running mate) to Republican John Rowland.
Fast forward to 2017. Joe's mayor again with the same ambition as young Joe.