Hey, after that formidable defense of Chris Dodd by Marlys in the prior post I've concluded that Dodd's Campaign Manager Jay Howser and Democratic State Party Chair Nancy DiNardo should hire her as Dodd's chief flak.
In honor of Marlys' defense of the castle, I've linked Dodd's U.S. Senate page under government so you can monitor all the wonderful stuff Marlys says Dodd has done for Bridgeport (now that Dodd's back from Iowa). I hope Dodd sucks up so much to Bridgeport in the next year that there's a chicken in every pot … a few turkeys as well and some quail too. I love quail. As long as Dick Cheney's not around.
So good for Marlys for sticking by her guy (even though Dodd didn't stick by Lieberman after Joe lost to Ned Lamont). I've also added Jim Himes' link as well. Yeah Lennie, it's about time.
And while we're on the subject of defense, how about all that love in the prior post for Joe Ganim? So if the choices for mayor were Ganim, Chris Caruso, John Fabrizi and Bill Finch how would you vote?
That sound you just heard was Bob from BePo pulling out a razor blade.
Poised For A Primary
Wednesday afternoon I caught up to Miguel Tomasio to discuss arrangements for the next OIB party July 23, 5:30 p.m. at Miguel's fantastico restaurant Taco Loco on Fairfield Avenue in Black Rock.
Mark your calendar; Miguel's gonna throw us a cool party to kick off day one of the Gathering of the Vibes weekend at Seaside Park featuring Crosby, Stills & Nash and a whole bunch more. Before you go there, come see us at Taco Loco where all the cool loco folks meet. Come for a beach drink, or any kind of drink, first cocktail on OIB, plus Mexican delights.
While at Taco Loco I also caught up to Isa Mujahid during his lunch hour from his job in the city Health Department's lead poisoning prevention program. So far we know of only two September primaries taking place for City Council and Isa has decided to challenge incumbents Warren Blunt and Richard Bonney in the 135th district.
Isa knows a little bit about campaigning. The 30-year-old resident of Old Town Road worked as an organizer for Action for Community Organization for Reform Now before landing a city job about four years ago. He's been knocking on doors making a pitch to voters about the need for stronger constituent services and a more accessible government.
He knows he has a tall order taking on an established pol such as Warren Blunt also an employee of the Health Department. So far, he's running on his own but has not ruled out a running mate to aid his cause.
Isa is throwing a $20 ticket fundraiser Friday at 4 p.m. at Amici Miei, a neat eats place downtown on Main Street in the City Trust building. A $20 ticket is a refreshing change from all the gigantic loot tossed around in high profile races. Remember those pasta night fundraisers for $20 bucks?
I'm probably the worst photog on the planet but while I chatted with Isa he posed while I tried out my new Verizon Blackberry Storm for my inaugural snap. Isa promised he wouldn't hold it against me.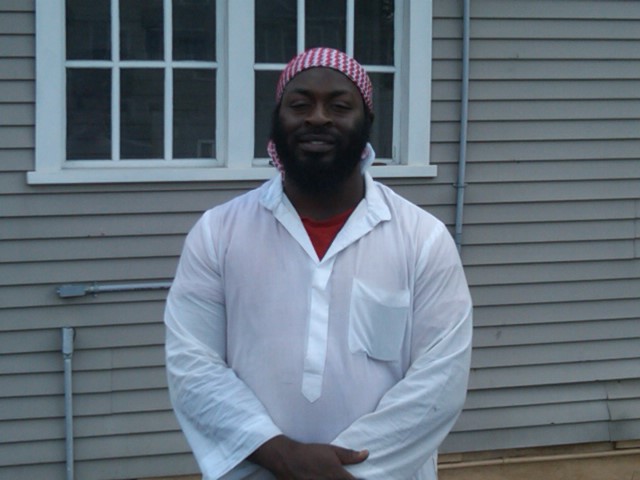 Let The Games Begin
Okay, the 2010 gubernatorial election is starting to heat up. See veto news release below from Gov. Jodi Rell followed by a response from one of her Democratic challengers Secretary of State Susan Bysiewicz. Yeah I know, lots of reading material today. Can't help myself.
Governor Rell Vetoes 'Pooling,' SustiNet Bills;

Creates Health Care Reform Advisory Board

Cites Billions in Unaffordable Costs

Governor M. Jodi Rell today announced that she has vetoed bills that would have established a Board of Directors to implement a health insurance program called SustiNet and opened the state employee health insurance program to employees of municipalities, non-profit organizations and small businesses. At the same time, Governor Rell issued an Executive Order establishing a Health Care Reform Advisory Board to develop state-level policies in response to reforms under consideration at the federal level.

The bills are House Bill 6600, An Act Concerning the Establishment of the SustiNet Plan and House Bill 6582, An Act Establishing the Connecticut Healthcare Partnership.

"These are well-intentioned bills that seek to address critically important issues, but they ultimately fail to resolve the central problems of access and affordability," Governor Rell said. "These bills also raise serious fiscal concerns that – in a time of record budget deficits, record unemployment and record business closures – simply cannot be ignored. These two bills would cost billions of dollars before any economic recovery is complete.

"At the same time, there are daily developments in Washington that have the potential to make extraordinary and fundamental changes in the way health care coverage is provided in our nation," the Governor said. "Because – like the proponents of these bills – I believe these issues must be worked out for the benefit of all our residents, I am creating a broad-based panel to develop policies ensuring Connecticut is ready to make the most of the developments at the federal level."

House Bill 6582, An Act Establishing the Connecticut Healthcare Partnership

This bill seeks to attract a number of new employee groups to the state employee plan – nearly all of whom already have health insurance, some of whom will be unable to afford the cost of the plan and all of whom may jeopardize the favorable ratings and costs of the current state plan. Given that the plan – which covers approximately 98,000 active and retired state employees and their 97,000 dependents – is financially supported by state taxpayers and insures, those are risks the state cannot afford to take, Governor Rell said.

In particular, the Governor noted concerns raised when similar legislation was considered that would have opened the federal employee plan to other groups. The U.S. Congressional Budget Office said groups with higher medical costs would be attracted to the plan, driving up rates for all members while driving down overall membership.

Governor Rell also noted that while the state currently has agreements for healthcare coverage in place through July 2011 that guarantee effective cost containment, including premium caps, the bill calls for switching to a self-insured plan that could result in an additional cost of at least $69 million for 2010 alone. Nor does the bill establish any reserves, while self-insured plans commonly establish a reserve of approximately two months' worth of anticipated claims.

House Bill 6600, An Act Concerning the Establishment of the SustiNet Plan

This bill would have established a nine-member Board of Directors to make recommendations for implementing the SustiNet Plan – but would not have given the board any other option, including the ability to suggest that the plan would be too expensive or unworkable in light of potential federal reforms.

"Limiting the board of directors to a specific approach is particularly unwise at this time," Governor Rell said, noting the discussions under way in Congress.

Moreover, the Office of Policy and Management has estimated that the SustiNet plan will likely cost approximately $1 billion per year. The nonpartisan Office of Fiscal Analysis has estimated the cost of allowing all uninsured adults with incomes less than 300 percent of the federal poverty limit (FPL) into HUSKY A or B, as provided in this bill, at $530 million.

"As staggering as this figure is, it does not reflect the costs for those with insurance whose employers would be encouraged to drop their plans, which could easily double this cost," Governor Rell noted.

The Governor also expressed concern that the unelected Board of Directors would potentially have broad authority over billions of dollars in state, federal and private health care expenditures. Nor would that board have any representatives from health insurance industry, the hospital industry or the business community.

"The authority to establish public policy of this nature, given its broad implications, should be retained by the legislative and executive branches and not delegated to an authority to determine at some future time," Governor Rell said.

Executive Order No. 30

Governor Rell issued Executive Order No. 30, establishing a 15-member Connecticut Health Care Reform Advisory Board to develop a set of proposed health care policies in response to federal health care reforms.

"Such policies shall emphasize cost containment, maximizing federal matching funds, best practices designed to enhance access to preventive care, and assuring health care coverage for all children entering the primary and secondary school system," according to the order. Issues the panel should consider include changes to improve the health of state residents and their access to health care, providing coverage for Connecticut residents who would otherwise be uninsured, increasing the range of health care insurance coverage options available to residents and employers and slowing the growth of per capita healthcare spending both in the short-term and in the long-term.

The board is to make interim recommendations by February 1, 2010, and submit its final recommendations to the Governor and the General Assembly by January 1, 2011.
News release from SuBy
Bysiewicz: Rell's veto of Health care Reform Bills Hurts Connecticut Families and Small Businesses

The Health Insurance Policy Council in its 2007 report "A Framework for Health Care Reform for Connecticut" cites that 52.2% of uninsured workers and dependents are in firms with less than 50 employees which confirms that a large part of Connecticut's uninsured population is found with small employers. Also, a recently released Families USA report found that 758,000 people lacked health insurance in Connecticut at some time during the years of 2007-2008.

Secretary of the State Urges Lawmakers to override Governor, Enact Meaningful Legislation to Offer Small Businesses, Non-Profits & Municipalities Affordable, Quality Health Care

Hartford: Secretary of the State Susan Bysiewicz expressed disappointment at Governor Rell's veto of two crucial health care bills. Bysiewicz today is urging the General Assembly to override the governor on both H.B. No. 6600, an Act Concerning the Establishment of the SustiNet Plan, and H.B. No. 6582, an Act Concerning Expanded Access to the State Employees' Health Insurance Plan.

"The Governor's veto represents a huge missed opportunity for our state – an opportunity to take advantage of real savings in the administration of our state's health care system and to promote job growth and economic development that will come from investing in quality, affordable health care for all," said Secretary Bysiewicz, Connecticut's chief business registrar. "The Governor's Executive Order establishing a health care advisory board falls far short. We don't need another commission to study the problem. We know what the problem is and how to fix it. What we really need is health care reform – now!"

Secretary Bysiewicz added, "I urge the legislature to override these short-sighted and ill-advised vetoes by the Governor. We can't take no for an answer. Too many small businesses and hard working families are counting on us for leadership on this critical issue. Thousands of businesses have shut their doors in Connecticut in the last year, and entrepreneurs have told us time and time again that health care is their number one expense. Small businesses have created 90% of all new jobs in Connecticut over the last decade, so anyone who is serious about reviving our economy must support improvements in our health care system to cover more people and bring down the cost. These two bills offer a sensible and comprehensive approach to health care reform in Connecticut and position us well to be ready for federal legislation."

Both the Senate and House passed the bills overwhelmingly, which would allow municipalities, businesses with fewer than 50 employees and non-profits to join the state employee insurance pool. According to some estimates, the bills would trim excess costs from the $22 billion private and public providers spend each year in Connecticut on health care, and would provide more options for Connecticut's small businesses. The SustiNet Plan proposes to unite the HUSKY and SAGA plans into a self-insured health plan and may cut health care costs by as much as $1.7 billion by 2014,. The benefit package will include mental and dental health care. SustiNet would be funded by a combination of individual premiums, and modest contributions from businesses with an annual payroll greater than $318,000 that do not offer health insurance to their employees.

The CT Healthcare Partnership would also provide an affordable option to cover the employees of small businesses and non-profits by allowing them to buy into the state employees health insurance pool. While Rell vetoed a similar bill in June 2008, Bysiewicz hopes that the Legislature will override the most recent vetoes.
Joe Barney's The Best
In July, The Barnum Museum in Bridgeport is offering three one-hour workshops to learn circus skills, suitable for children age six to twelve. The programs will run on three consecutive Thursdays; July 9, 16 and 23 from 1:30 to 2:30 p.m. and will be presented by Joe Barney of Center Ring Productions in Bridgeport. The sessions are all free with general admission to the museum.

Adults $7, seniors and college students $5, children 4-17 $4 and children under 4 free. Connecticut residents receive $1 off Tuesday through Friday through September 6, 2009 as part of the state's Staycation program. Please be prepared to show your I.D. R.S.V.P. to 203-331-1104 x106 Jaime Knoedler. Events made possible in part by the Fairfield County Community Foundation.
July 9, 1:30 – 2:30 p.m. Now You See It, Now You Don't

Learn some of the mystifying magic that you can use to amaze your family and friends. This will be a make and take workshop so everyone will bring home some tools of the trade. Join award winning comedy magician Joe Barney for plenty of 'oohs' and 'ahhs.' You'll leave wondering, "just how did he do that?"

Joe Barney of Bridgeport is a professional clown and performing artist in residence with Clowns of America and the Northeast Vice President of this group. For many years, Barney performed and traveled all over the country appearing as P.T. Barnum with Ringling Bros. and Barnum & Bailey® Circus and now has a grown son, Alex, touring as a clown and pre-show host with the 138th Over the Top edition of The Greatest Show on Earth®.
Barney has appeared numerous times on national television programs from Good Morning America to Entertainment Tonight. He has also been the subject of articles appearing in publications from People Magazine to the Los Angeles Times. Barney was the Producer and Director of a variety of Six Flags theme park shows from 2004 through 2008. He designed and built the Celebration Parade for the Great Escape a Six Flags theme park and the Bugs Bunny Float for Six Flags New England.
Support This!
Ready for some summer fun? Please join us for this special event.

The Norden Club and the Black Rock Community Council Presents
An outdoor summer concert featuring the Celtic sounds of Pogey
www.pogey.ca/index.htm
A concert to benefit the Black Rock Food Pantry at the Norden club with Black Rock Harbor as the backdrop.
Tuesday, July 28. 6pm-10pm – Admission $20.00 plus one non-perishable food item is required.
Bring a lawn chair if you wish. Food and drink will be available for
purchase.

Invite a group of friends or come alone and join us.

If you would like to in addition help sponsor this event there are two
opportunities.
A $25.00 sponsorship puts your name on the sponsor board by the stage. A $100.00 sponsor gives you an 8′ area on the fence at the concert to hang a banner. Please call Ray Corby at 767-9002 with questions or for more information.
OIB friends Bruce Hubler and Mary-Jane Foster sit on this board. Check out Playhouse on the Green. Yeah, baby!
PLAYHOUSE ON THE GREEN RECEIVES $25K GRANT FROM FAIRFIELD COUNTY COMMUNITY FOUNDATION

Bridgeport, CT- Playhouse on the Green, a not-for-profit theater company in downtown Bridgeport, has received funding in the amount of $25,000 from the Fairfield County Community Foundation (FCCF). The grant provides general operating support as the Playhouse continues its theater and education programs from June 2009 through June 2010. This is the first time Playhouse on the Green has received funding from FCCF.

Formerly known as the "Polka Dot Players", in 2007 Playhouse on the Green recommitted to its mission by returning to its roots as a community theater. To launch this new phase, the shows Six Degrees of Separation and Barnum–The Musical (in cooperation with the Barnum Festival and The Barnum Museum) were produced by the Playhouse in May and June 2008, followed by the first "Project Broadway" summer theater program for kids and teens, in which 75 local children participated. From September 2008 to May 2009, the Playhouse's first full season since 2002 was seen by more than 6,000 audience members and included productions of The Underpants, The Rocky Horror Show, The Santaland Diaries and Season's Greetings, Twelve Angry Jurors, and The Wiz. The 2008-2009 season also saw the debut of the "Playhouse Greenhouse" arts education program in partnership with RYASAP; and "Best Night Bridgeport", a New Year's Eve celebration in cooperation with The Barnum Museum, City Lights Gallery, and other downtown organizations.

In 2009-2010, 6 mainstage productions are being planned, and an expanded 6-week "Project Broadway 2009" program began its first session on July 6, 2009. As a primary partner of RYASAP's "MYO: Mine, Yours, & Ours: What's Right in Relationships" Program, part of the Robert Wood Johnson Foundation's national Start Strong Initiative, the "Playhouse Greenhouse" program will be expanded in 2009-2010 to include more opportunities for kids and teens. Adult learning classes also are being developed.

"We are so pleased and honored that Fairfield County Community Foundation has invested in the Playhouse in this way," says Playhouse Producing Artistic Director Matt Schicker, "This 'vote of confidence' in our community theater, and the Foundation's ongoing commitment to the arts in Bridgeport in general, is very meaningful, especially in these tough times. Thanks to the FCCF's belief in our mission, we are redoubling our efforts to provide our audience and artists the best programs possible at an affordable cost."

About Playhouse on the Green

Playhouse on the Green is a 501(c)(3) not-for-profit theater company in residence at a beautiful 228-seat jewel-box theater in the heart of downtown Bridgeport, Connecticut. Playhouse on the Green's mission is to enrich Bridgeport's cultural life by providing an eclectic variety of live stage entertainment and arts education programs at an affordable cost, as well as providing opportunities for area artists. Among these programs are its mainstage season of plays and musicals; "Playhouse Greenhouse" and "Project Broadway", its arts education programs for kids, teens, and adults; a music and comedy series; and the "Page to Stage New Play Reading Series", which brings the new work of Connecticut playwrights to the stage. Playhouse on the Green is generously funded by Fairfield County Community Foundation, People's United Community Foundation, Bridgeport Downtown Special Services District, City of Bridgeport Community Development Block Grant, and CT Arts Endowment Fund Grant, as well as sponsorships and donations from businesses and individuals in the Greater Bridgeport area and beyond. More information can be found at www.playhouseonthegreen.org.

About Fairfield County Community Foundation

The Fairfield County Community Foundation promotes the growth of community and regional philanthropy to improve the quality of life throughout Fairfield County. Individuals, families, corporations and organizations can establish charitable funds and contribute to existing funds. The Foundation also provides philanthropic advisory services, and develops and leads initiatives to tackle critical community issues. It is in compliance with the Council on Foundations' national standards for community foundations. The Foundation has awarded over $110 million in grants to nonprofits in Fairfield County and beyond. For more information, visit www.fccfoundation.org.