Guns, gaming, schools, public financing, tolls, leadership qualities and socks were among the subjects addressed Sunday night at a debate by the Democratic candidates for governor in New Haven, the city that brings the most–about 100–delegates to the state party convention on May 19. Bridgeport is number two in that category. The candidates, as part of the discussion, posed questions to each other. At one point Mayor Joe Ganim hiked up his pant leg to show off his multi-patterned sock while a nonplussed Susan Bysiewicz, the only woman on stage, looked on. Who's buying Joe's socks? OIB friend Paul Bass from the New Haven Independent has more on this political yarn.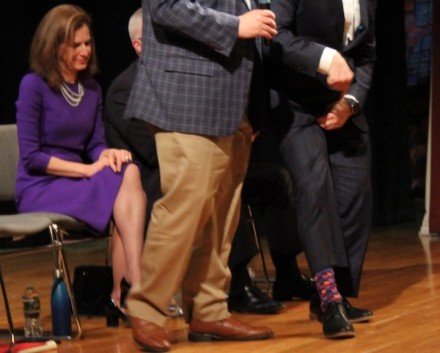 Most of the debate featured candidates playing to the New Haven crowd, especially Mayor Harp.

At one moment, toward the end, Lamont gave an answer that didn't fit neatly into what New Haven has been saying these days.

Lamont was answering a question posed by Ganim. Ganim spoke of how the state legislature has agreed to pay off $550 million in bonded debt on behalf of bankruptcy-teetering Hartford. Ganim and Mayor Harp originally blasted the state for doing that while leaving Bridgeport and New Haven to struggle with difficult budgets amid cutbacks in state aid. Last week Ganim altered his position after Hartford's mayor dropped out of the race for governor; seeking support from Hartford's newly freed delegates, he declared himself a convert to the idea of bailing out that city. But he continued to press for similar bailouts for Bridgeport and New Haven.

On the state Sunday, Ganim asked his opponents if they join him in seeking those similar bailouts.

"We need a comprehensive urban strategy in Connecticut that would support New Haven and would support Bridgeport and other situated cities with the same type of equity and support." He challenged anyone who doesn't "agree with that" to "take the microphone."

Lamont took the microphone.

"I am going to be a champion for the cities," he said. "But I would do it a different way than what I saw in Hartford. The bailout in Hartford in Hartford ended up bailing out a bunch of Wall Street bondholders. I want to make darned sure the money goes to the people in Bridgeport and New Haven Hartford."

Looking at Mayor Harp seated in the audience–as candidates did often during the debate–Lamont said he would instead push for fulling funding the Payment in Lieu of Taxes (PILOT) program and increasing the amount of school aid cities get under the Educational Cost-Sharing System (ECS).
Full story here.