Director of Adult Education Michael Testani, a candidate for the one-year interim superintendent of schools job, wants school board member Maria Pereira disqualified from the selection process because of public remarks she's made challenging his credentials for the job. What does Pereira say about that? Hell, no.
Wednesday night the Board of Education continued interviews with the five finalists for the job including Testani who was asked by Pereira if he lobbied political or governmental leadership for the job. He said no. See highlights of interview on CT Post reporter Linda Conner Lambeck's Twitter feed here.
What Testani has done in an email is lobby school board administrators to support him at a community forum, to be scheduled, prior to the full school board issues a vote among the five finalists.
And this pic.twitter.com/KM7SwWXybp
— linda lambeck (@lclambeck) June 12, 2019
On behalf of Testani, Attorney Tom Bucci, a former mayor, sent a letter to Board of Education Chairman John Weldon urging Pereira's disqualification. Excerpt of Bucci letter to Weldon: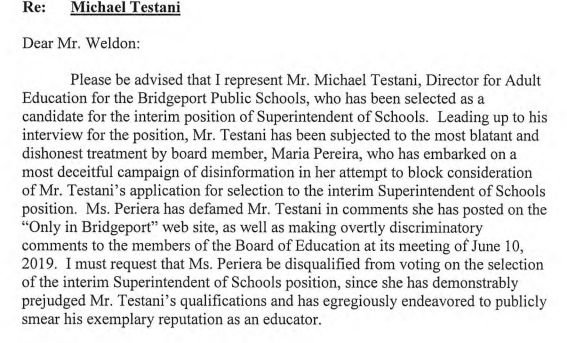 In an email to board members Wednesday Weldon wrote:
At the full Board level, nothing can take away Ms. Pereira's legal right as an elected Board Member to cast a ballot for or against the Search Committee's recommended candidate, whoever that may be. Notwithstanding, she could abstain from voting on the final recommended candidate in the interest of maintaining integrity of the process. However, that choice would be up to her.
Pereira's response to Weldon:
My statements made about Mike Testani on OIB on May 22, 2019 were made BEFORE we even received his resume on May 31, 2019 as an applicant for the interim position.

I reviewed my public comments made at the regular meeting on Monday because you asserted that I was "disparaging" a school employee.

I stated Mike Testani had never been a teacher. He was a certified guidance counselor. I stated he has never served as a Principal, Asst. Superintendent or Superintendent and he did not have an 093 Certification. That is factual and is no way disparaging.

My opinion of Mike Testani is from my ten years of involvement in the BPS and my interactions with him as an employee of the BPS. It is not due to a personal matter as I have had no personal relationship with him.

Those who should recuse themselves are your two allies, Vice-President Jessica Martinez and Chris Taylor, who both failed to so much as attend and participate in the three interviews held last night.

You may not remove me from any process involved in the interview or selection of the only employee of the Bridgeport Board of Education as I am an elected member of the Bridgeport Board of Education who obtained the largest number of votes by far of any current school board member and possesses the most tenure.

I will not be abstaining in any fashion and will fulfill my legal obligations as an elected school board member as I have always striven to do.