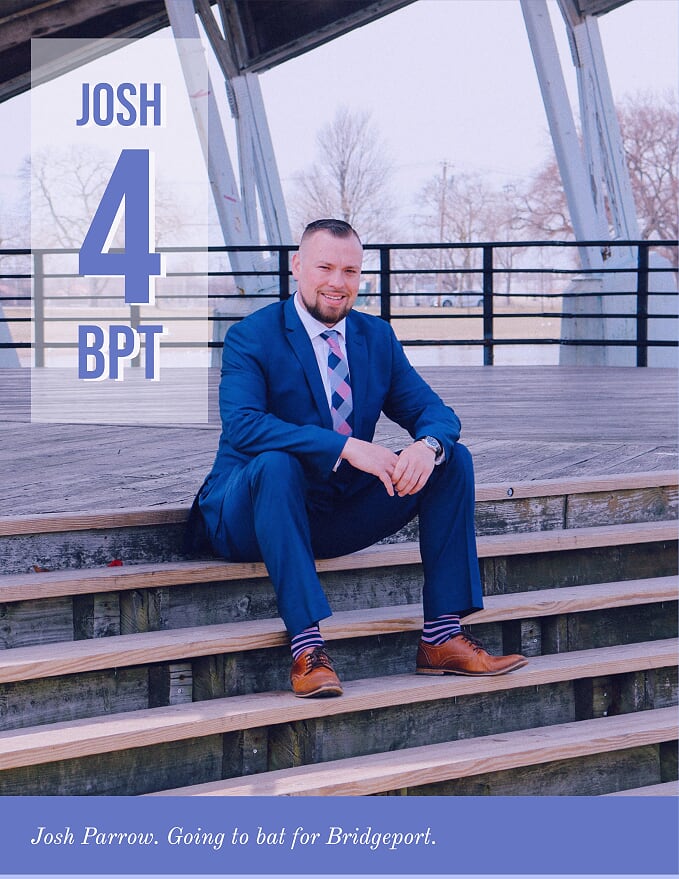 Republicans have nominated Josh Parrow as their candidate to fill the 130th State House seat of Ezequiel Santiago who passed away a few weeks ago. A special election will take place May 7. Democrats have nominated Antonio Felipe, vice president of the Greater Bridgeport Young Democrats. Others may petition onto the ballot.
Parrow shares this commentary:
Josh Parrow–community advocate, University of Bridgeport alumnus, and Downtown resident—has announced his candidacy for State Representative of CT House District 130, which is comprised of Bridgeport's South End, Downtown, and West End, for the upcoming May 7th special election. Parrow was nominated by the Republican Town Committee to fill the vacancy left after the tragic passing of long-time leader and advocate, Ezequiel Santiago, whom Parrow admired greatly.

Parrow, a young Republican in a Democratic stronghold, brings a passion for all things Bridgeport, and views bipartisanship as the key to progress and growth for Bridgeport. Parrow describes himself as a Rockefeller or moderate Republican, with strong views on improvements to infrastructure and education, but liberal social philosophies.

As the Assistant Director of Development at the University of Bridgeport, Parrow has championed the city since moving there to join UB's baseball team in 2009. In addition to his work with the University of Bridgeport, Parrow is the vice chairman of both the SouthEnd NRZ and the NRZ leadership committee, a core member of Bridgeport Generation Now, Leadership Greater Bridgeport Class 30, RTC district leader for the 131st (city council), and a member of the environmental task force. Parrow's passion for the Park City is evident in his willingness to roll up his sleeves and go to bat for the community.

Of his goals, Parrow said, "My main focus will be to take advantage of what is the best district in Bridgeport and, arguably, the state. The 130th district is home to two wonderful institutions of higher education, two outstanding entertainment venues, countless parks and recreational facilities, and is rich with history. I believe these resources, along with the tremendous constituents of the 130th district, provide the foundation for unique opportunity to reshape a better Bridgeport. I want to be clear that a vote for Josh Parrow is a vote for sending a tireless community advocate to Hartford who will go to bat for Bridgeport's students and their families, who are underfunded and overtaxed."

Josh also encourages community dialogue and can be reached by phone at (203)408-3123 or email at josh4bpt@gmail.com.