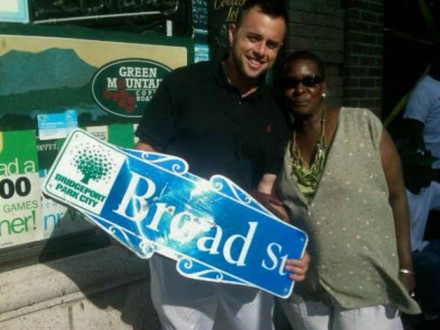 No revelation here, eh? From CT Post:
The state Friday dropped criminal charges against Peter Finch, the Bridgeport mayor's son, who had been accused of stealing a street sign in the aftermath of last month's tornado.

"The state would have been unable to prove beyond a reasonable doubt that the defendant intended to permanently deprive the city of its property," Supervisory Assistant State's Attorney Joseph Marcello said in nolling the charge of sixth-degree larceny against Peter Finch.
I spoke to Pete Finch Friday night who was obviously pleased. "The justice system has worked," he said. Following a tornado that ripped through the city, Pete Finch picked up a felled Broad Street sign and brought it into a downtown bar. He had such felonious intentions that he decided to stop for a photograph. A tornado rips through the city–roofs ripped off buildings, residents displaced, and cops have nothing better to do than spend an hour pinching Pete Finch and writing a report.
This was a classic case of abuse of power, and what did the taxpayers get for their buck? A waste of time. Cops pinched Pete Finch simply because–one of the arresting officers in particular former union chief Frank Cuccaro–they had a bitch with the mayor over the union contract. Frank might be a great cop, I don't know; but don't pick on the mayor's kid because you don't like the old man.
Frank, you're always welcome here to share your side of the story. But even OIB friends such as Milton Johnson, a good guy and a good cop, justified the arrest. Based on what, Milton? The prosecutor ruled there was no case.
From Mayor Finch:
Take the Bus – Take A Break – Stay Cool!

City, GBT to open main bus station terminal as cooling center on Sunday, July 25

Mayor Bill Finch and Greater Bridgeport Transit officials urge City residents to come to the Greater Bridgeport Transit Main Bus Terminal at 710 Water St., to cool off on Sunday, July 25 from 1 to 7 p.m. The American Red Cross will provide cold water.