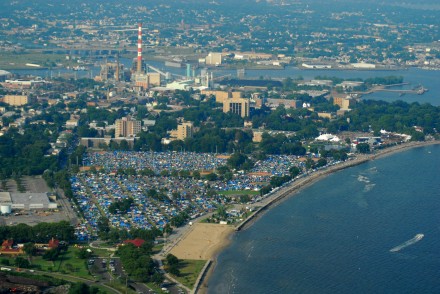 Hey, GOTV is next week. No, not Get Out The Vote. Gathering Of The Vibes. The annual hippie fest returns to Seaside Park, the waterfront gem gifted to the city by P.T. Barnum and designed by Frederick Law Olmsted.
How many pols will show up this year to schmooze voters? So what that so many Vibes junkies are from out of state. We want to give them a nice Bridgeport welcome with an exclusive touch of city political hospitality. Could Linda McMahon and Dick Blumenthal make peace for the weekend and share a reefer along the reef?
"This is some good shit, Dick."
"Yeah, just brought back some good stuff from Vancouver. But Rob Simmons turned me on to the primo stuff when we were in 'Nam together."
"What part of 'Nam was that Dick?"
"Beats the Schiff out of me. Stuff was spiked with some hallucinogens. I can't remember a thing about my service."
"Yeah, my husband Vince says the same thing."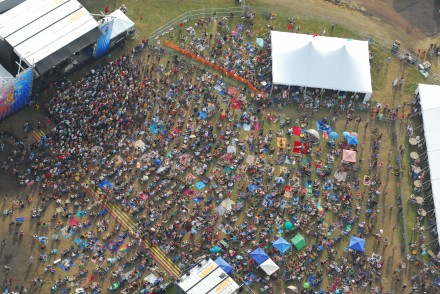 Oh yeah, peace and love and goodwill, that's what I say. No candidate-stalking trackers. Congressional candidates Dan Debicella, Rick Torres and Rob Merkle pledging peace and a pipe just weeks before their GOP primary.
But hey, if any two opponents need to share a doobie it's those GOP Bridgeport Registrar warriors Linda Grace and Theresa Pavia.
Yes indeed, I say donkey and elephant tents featuring absentee ballots and a bong!
Check out the lineup, from The Vibes:
GATHERING OF THE VIBES 2010

4 Day Music, Camping & Arts Festival Gets Underway July 29

BRIDGEPORT, CT – The fifteenth annual Gathering of the Vibes will begin next Thursday, July 29, at Seaside Park in Bridgeport, CT. The four-day festival anticipates 20,000-plus attendees per day. This year's Vibes will be a weekend-long celebration of Jerry Garcia's life. Fittingly, August 1, the last day of the festival, would have been the Grateful Dead leader's 68th birthday. The lineup offers more than forty bands on three stages, and includes the only festival appearance this year of all surviving members of the Grateful Dead with their respective bands: Phil Lesh and Bob Weir with Furthur, Bill Kreutzmann and Mickey Hart as the Rhythm Devils, and the Donna Jean Godchaux Band.

Among the 40+ acts performing are Rock and Roll Hall of Famer Jimmy Cliff; newly reunited Primus with Les Claypool; Damian Marley and Nas; Robert Randolph and the Family Band; The Radiators; Sharon Jones and the Dap Kings; Little Feat; New Riders of the Purple Sage; Beastie Boys' DJ Mix Master Mike; Steve Kimock's Crazy Engine; Umphrey's McGee; Martin Sexton featuring The Ryan Montbleau Band; Dark Star Orchestra; and many more. Hippie Icon Wavy Gravy will once again serve as master of ceremonies.

Gathering of the Vibes music festival features four days of car-side camping for all ages, with on-site food and beverage; arts and crafts vendors; Kids Corner; Teen Scene; a non-profit organization village; and "Greenvibes" environment with an aggressive on-site recycling campaign. Seaside Park is conveniently located off I-9­5 in Bridgeport, Connecticut, and is easily accessible by Metro-North and Amtrak trains.

Tickets: A limited number of single-day tickets, weekend camping passes and VIP packages remain available online and at the gate each day of show. When accompanied by a parent or guardian, kids 12 and under get in free all weekend. For tickets or information, go to www.GOVIBES.com or call Gathering of the Vibes Festival 2010 Headquarters at 203.908.3030
From Ned Lamont:
Ted Kennedy Jr. Endorses Ned Lamont for Governor

Praises Lamont's Values, Ability to Bring People Together in New TV Ad

New Haven, CT – Longtime Connecticut resident Ted Kennedy Jr. announced today that he is endorsing Democratic businessman Ned Lamont in the race for governor. In new TV and radio ads that will begin airing across the state tomorrow, Kennedy cites Ned's long record of hard work and giving back to the community, praising his ability to bring people together.

"What makes Connecticut so special to me are the people that I've met here, people like Ned and Annie," said Kennedy. "Over the years, I've been lucky enough to become good friends with them and I know they share the same values I believe in – the values of hard work and giving back. I've seen Ned in action. I know he has what it takes to bring people together and move Connecticut forward, and that's why I'll be voting for him on August 10."

"Ted and his wife Kiki are great friends and proud Connecticut residents," said Lamont. "I'll never forget standing beside Ted's father singing 'When Irish Eyes Are Smiling' when he came to campaign for me in 2006. Senator Kennedy always believed that our best days were ahead of us, a belief that Ted Jr. and I share for the state of Connecticut. As governor, I will work every day to create jobs and make Connecticut a place where every family has the opportunity to achieve their own American dream."

The new ad can be viewed here: www.youtube.com/watch?v=syKPS31XSR4
From Jim Himes
Himes Campaign Launches Food Drive to Support Areas in Need

BRIDGEPORT, CT–Congressman Jim Himes (CT-4) announced this week his campaign will hold a food drive in response to reports from local food banks that supplies are low.

Himes has asked those who are able to drop off food at the Bridgeport and Stamford campaign offices listed below, and he will deliver the food to local shelters and food banks. Foods that are needed most include:

* Large boxes of cold and hot cereal
* Pasta and jarred spaghetti sauce
* Boxed macaroni and cheese
* Large bags of rice or beans
* Ramen noodles
* Instant mashed potatoes or canned potatoes (28-ounce and larger)
* Canned vegetables (14-ounce and larger)
* Canned fruits
* Canned meats such as: beef stew, canned tuna fish, canned hams and/or SPAM
* Instant Jell-O mixes
* Granola bars
* Iced tea and lemonade mixes

WHO: Congressman Jim Himes

WHAT: Food Drive

WHEN: July 17 – August 16

WHERE: Himes Campaign Headquarters: 350 Fairfield Ave, Bridgeport, CT

Democratic Campaign Headquarters: 123 High Ridge Road, Stamford, CT