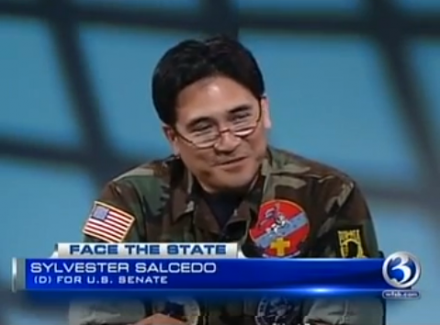 U.S. Senate candidate Sylvester Salcedo says governing morality as it applies to the "war on drugs" is a wimpy way for politicians to hide behind each other. Salcedo, a Democrat who served his country as a Navy commander, is trying to engage his higher profile opponents to join his call for national drug reform, among them Congressman Chris Murphy, former Secretary of the State Susan Bysiewicz and Republicans Linda McMahon and former Congressman Chris Shays. In this essay the ex-Bridgeport resident urges "Drug use should be administered, managed and supervised by the medical profession, and drug abuse should be a public health, not a law enforcement or national security matter." He says many political figures agree with him privately but lack the courage to stand up. To learn more about Salcedo, visit www.salcedoforsenate.com.

"Taking point" in the US Senate race in Connecticut.

In ground combat patrols, the most dangerous position is that of the "point man." That is the soldier who leads a patrol on foot or a lead vehicle in a convoy that is first to take on hostile fire, or trip a booby trap or trigger an IED. The result is usually fatal (death) or at least serious bodily injury, such as TBI (traumatic brain injury or loss of limbs, etc).

We see in our politics, especially today, no one is dashing to volunteer one's campaign to take "point" on an issue or issues not cleared as safe by polling, or by the untested science and art of public opinion experts, or by the self-appointed political pundits of all stripes.

Our 40-year War on Drugs is today's untested political war zone. Sorry, actually no, in the most recent past it has been tested repeatedly and the political battle damage assessment (bda) reports back to any campaign headquarters are "Don't go there!" "It's the third rail of politics." "You touch it, you're dead. Politically. Immediately."

For Maria Elizabeth Macias of Nuevo Laredo, the State of Tamaulipas, Mexico, a non-politician, she touched it and now she's dead.

Maria Elizabeth was decapitated on or about September 27, 2011. Her head and decapitated body were found in a main square in her hometown with a sign that read: "I'm the Laredo Girl (La Nena de Laredo), and I'm here because of my reports, and yours. For those who don't want to believe, this happened to me because of my actions, for believing in the Army and the Navy. Thank you for your attention. Respectfully, Laredo Girl … ZZZZ." The z's are not to indicate she's asleep, they are to identify her alleged killers, the Zetas.

She was abducted and killed because she reportedly was blogging on a local website "Nuevo Laredo en Vivo' sharing information about the location of gunfights and roadblocks, and for denouncing the violence perpetrated by all drug cartels, especially the group known as "The Zetas" (the letter Z in Spanish). This website is used by most local residents to have an idea of where violence and active clashes between drug gangs or between the gangs and the military that are occurring in real time. City leaders disbanded the entire local police force due to corruption and lack of trustworthiness.

The newspaper she worked for, Primera Hora, is hard pressed to provide accurate information as to her exact identity and job description for fear of reprisals. Such is the reality in many parts of Mexico today when the press self-censors itself for fear of death threats and certain death. Then, what is a Democracy without a Free Press?

As a follow-up last Friday night, I heard for the first time in Connecticut's news airwaves an account of this story on NPR's Fresh Air program, and the newscaster did not mention Maria Elizabeth Macias' name but said other web bloggers in Nuevo Laredo have suffered the same fate. Almost two months has passed since her death in Nuevo Laredo, and now we hear a seemingly and equally oblique reference to this unfolding tragedy and endless bloodshed suffered by the most vulnerable of our neighbors to the south. Since 2005, over 40,000 Mexicans have lost their lives in the crossfire that is the War on Drugs.

Besides the loss of lives and countless other injuries, physical and mental, psychological and spiritual, moral and political, what of the loss in personal wages, shrinking business and commercial developments, declining trade and an unstable economy as fear and instability creeps across the entire spectrum of Mexican life?

Can we afford to continue to push Mexico and our other southern neighbors to the brink of collapse by bolstering our own immediate political ambitions with attention grabbing headlines about building electrified walls and fences with moats and alligators?

No. What we need is strong and decisive political leadership from those willing to "take point" to help our neighbors, to help our own citizens, to help our own cities and towns to be safe and to prosper.

To grow our economy, to create jobs, to care for our veterans, to improve our schools, to provide sensible and affordable healthcare for all citizens, to strengthen our local and national security, we need to end this wasteful and senseless 40-year-old War on Drugs. Common sense and pragmatic financial analysis says drug abuse is bad, but the War on Drugs in worse. Drug use should be administered, managed and supervised by the medical profession, and drug abuse should be a public health, not a law enforcement or national security matter.

As a Democratic candidate for US Senate, I step up to take "point" and I would work to end this wasteful and misguided War on Drugs as my first priority. I would support the legalization of marijuana. I say: grow it, trade it, sell it, tax it, ingest/use it responsibly. I would support the moving heroin off Schedule 1 to a Schedule 3 category and give the medical profession the decision-making authority to determine how to treat their patients under their time-honored motto of "Do No Harm" over the centuries. I would support the initiative by the former Mexican president Vicente Fox to call for a truce with the most powerful and influential drug cartels and allow them to be reintegrated into a positive and beneficial role in Mexico's future. I would call for amnesty and the reintegration of many drug war prisoners to rejoin their families and help to rebuild their communities. I would support changing the DEA's mission from drug enforcement to financial enforcement to protect the financial well-being of our citizens from the past abuses and the lack of enforcement of our financial laws and regulations. Finally, I would support the call by Mexico's preeminent poet Javier Sicilia for peace and change, in his country and ours.