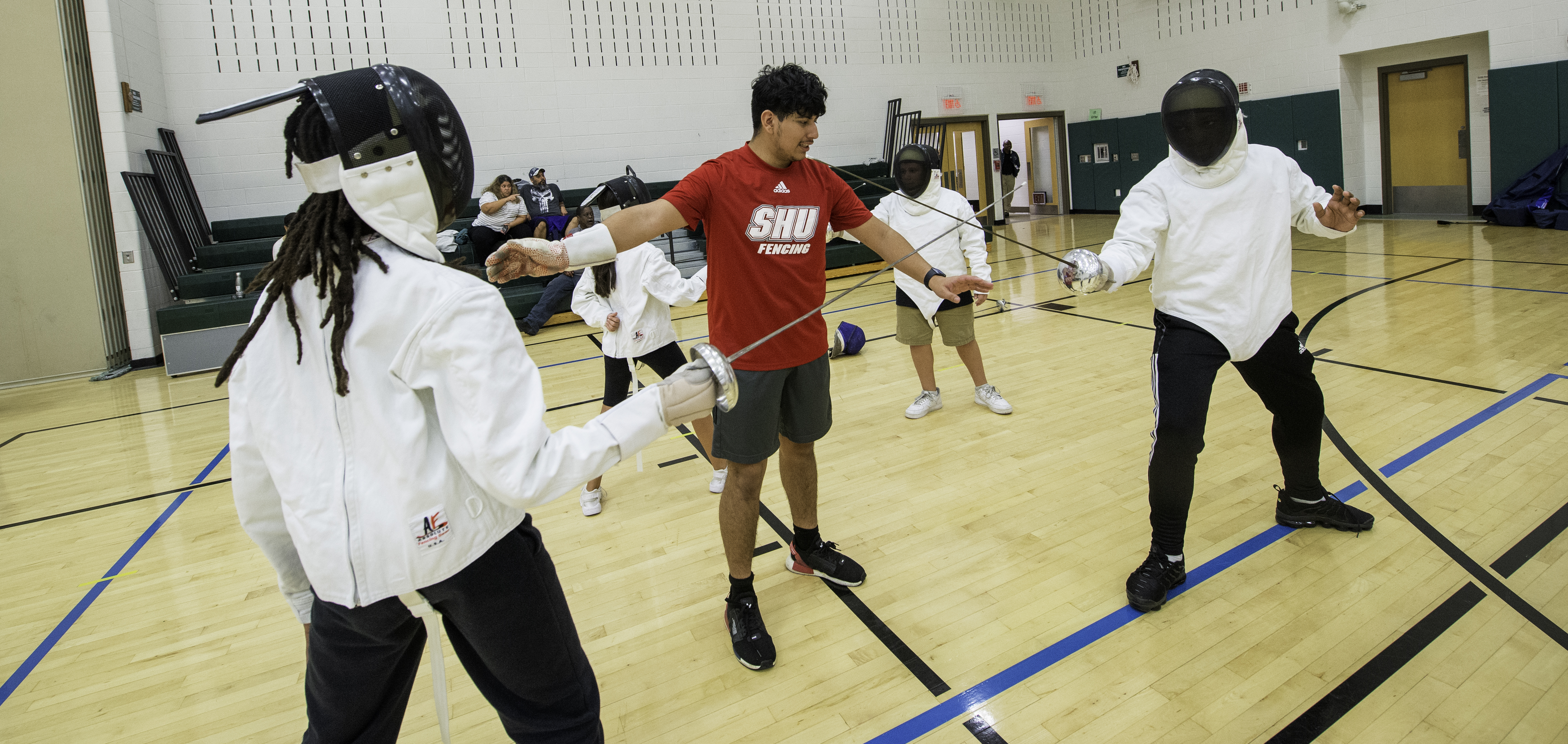 News release from SHU
Sacred Heart University's NCAA Division I fencing team has embarked on a collaboration with The Willie and Sandra McBride Foundation, which has started a fencing program for middle school students in Bridgeport.

The SHU men's and women's fencing teams aim to send four or five athletes once a week this semester to one of the McBride practices. They will provide their knowledge of the sport and their experience to teach the students to fence. About 40 students will participate in the program.

The McBride Foundation, a non-profit organization, aims to help young students earn college athletic or academic scholarships, and fencing is one of the approaches it is exploring, according to Greg Zullo, SHU's assistant athletic director. "We hope to have a successful fall and get the middle-schoolers to come to our home meet on Dec. 4 at 9 a.m.," he said. "They can see how a college fencing meet operates, and we also can expose them to a college campus 15 minutes from where they live."

The partnership came about when Zullo saw an inquiry that someone from the foundation sent the University. He thought it was a "great way for our fencing team to get involved in the community in a way that hasn't been done in the past."

The benefit to Bridgeport students is top-flight, said Zullo. "It's an opportunity to work with D1 fencers while they learn the sport, with the added chance to ask questions about the process of becoming a fencer in college. These students will see there are different ways to get into college outside of the usual sports."

There are benefits to SHU's fencing team and its members, as well. "This enables our student-athletes to give back, but they also will make an impact on the Bridgeport students' lives," Zullo said.

Yury Molchan, SHU's head fencing coach, reinforced the partnership's potential, positive impacts. "I am happy to help build the new fencing program in Bridgeport, because there aren't many fencing programs in Connecticut. The kids there will have the opportunity to experience a sport that's new for them."

The McBride Foundation's executive director, Sean McBride, credited State Senator Marilyn Moore–who serves Trumbull, as well as sections of Bridgeport and Monroe–with being instrumental in acquiring funding for the collaboration. McBride also thanked SHU President John J. Petillo who initiated the meeting with Moore to discuss ways to support Bridgeport youth. McBride said from there the partnership between the foundation and SHU's fencing program developed.

McBride also said SHU has provided a warm welcome for its partners at the foundation. "We are beyond excited to begin to explore the many opportunities that SHU has to offer the foundation and greater Bridgeport area. Our partnership–strategic and planned–ensures the continuity of this fencing program, increases the possibility of formulating more programs in the future, and enables us to research and develop information and data to compile evidence for evaluation purposes," he said.